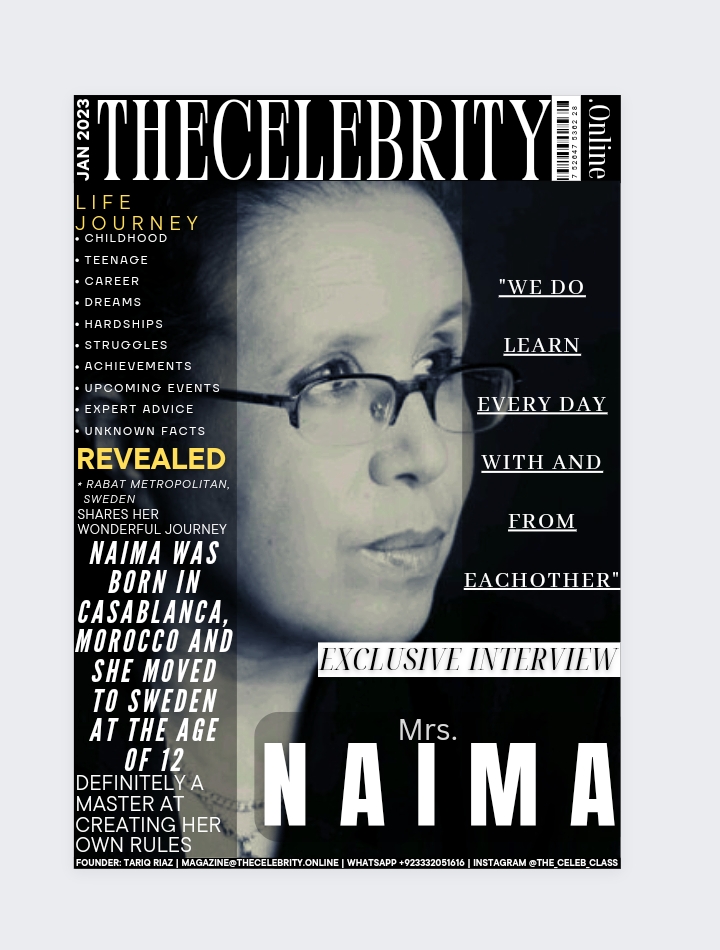 Mrs. Naima was born in Casablanca, Morocco and she moved to Sweden at the age of 12. As a child Naima was very stubborn, never letting anyone control her or her spirit!
Never letting anyone make decisions on her behalf. She used to follow "aunty" to the hospital where her aunt was working and at the age of 5 Naima decided to become a doctor.
Naima was inspired by the work her aunty and the doctor were doing and she even was permitted to do small work at the clinic! And she enjoyed it.
Mrs. Naima As Cover Story Interview – TheCelebrity.Online January 2023 Edition
Childhood to Adulthood – How was the transition from your childhood into adulthood/teenage and what about good and bad things you remember?
Mrs. Naima: At the age of 6 my parents and 3 siblings moved to Sweden and I absolutely refused to follow them! Remember my stubbornness mentioned above! And believe me if there was an award for stubbornness I would easily have won many times! 
I loved living in Casablanca and especially being with my aunty Rkia that spoiled me a lot, she didn't have any kids of her own so I was sort of. I remember how nice it was when we took a w-e walk at the port of Casablanca and how much I appreciated the sound and the smell of the sea shore!
I still feel those sensations every time I close my eyes and go back in time! So many nice memories and so many deep scars!
Struggle – What hardships have you faced during your life?
Mrs. Naima: Moving to Sweden was just awful! I never liked it and especially not at that time when I was just so satisfied and happy with where and how I was as well with so many new challenges and vulnerabilities around!
It was not easy to move from a familiar and safe place to the state of a somehow lost teenager and an immigrant! It was really hard, leaving friends, good school and my adorable dog! From good times and things that I never could or can get back to alienation and confusion!
I remember many days multiple times with so much pain and often I deeply wish I could go back and revive every moment as well as rerun every step of its escapades.
Staying in Casablanca with my aunty Rkia and my uncle, her husband "Ba Kaidou" was very good! They did what they could to make me feel safe and happy and they also gave me a precious friend and companion – Louisa, my adorable and forever missed dog!

My childhood in Casablanca was in many ways worry free! Of course I was not aware of anything else! So how could I know? But there was joy, hope, care and love and that is what mattered and what matters always.
Things people usually don't know?
Mrs. Naima: That I am an introvert! That I appreciate spending time with myself. Very open minded. Self confident! High performer.
What makes you different from your competitors in the industry and life?
Mrs. Naima: I'm always engaged and a problem solver. A great team-player but also a lonely performer.
What are the major upcoming Events & Unforgettable Moments or products/services that you want to promote/inform our readers about?
Mrs. Naima:
Creation & Development of GIFSI – Global Institute For Social Innovations
An institute for Healthy People and Societies.
GIFSI's ambition is to run a global, broad, and multi-competent community service whose focus and objective are to contribute to a healthier and more sustainable world.
At GIFSI, we will bring together global skills and voices that want to promote our global sustainability goals.
We will highlight successful examples and scale these up globally.
We will share experiences and solve common problems.
We will map, analyze and remediate whenever necessary and required.
What Expert advice" you want to share with the readers about the professional and social field of life?
Mrs. Naima: I can share life experiences and life wisdom.
We all are experts in something! And we can all learn from each, all the time!
I am because of you, we are because of us!
Do always believe in yourself and your abilities!
You are brilliant. We all are if we just realize it!
We all are equal!
Do always honor yourself and your roots!
Do never question your worth and do never let anyone devalue it!
Do never hesitate in asking for help!
Remember that we all are unique and valuable!
Remember that we do learn every day with and from each!
My sign: A Salute for Peace and Freedom as Human Rights! My mission is the Humanity, my nation is the Earth and my religion is Peace!

Mrs. Naima
Buy/Read a wonderful book written by Ms. Naima on Amazon
https://www.amazon.com.tr/Outrun-Naomi-Ain/dp/B09BGM1VRX
Follow Mrs. Naima on links below:
LinkedIN: https://www.linkedin.com/in/naimatransqure/
Fb: https://www.facebook.com/pazi2/

Website: https://globalyouthinstitute.ning.com/
Volunteer work: https://smif.one/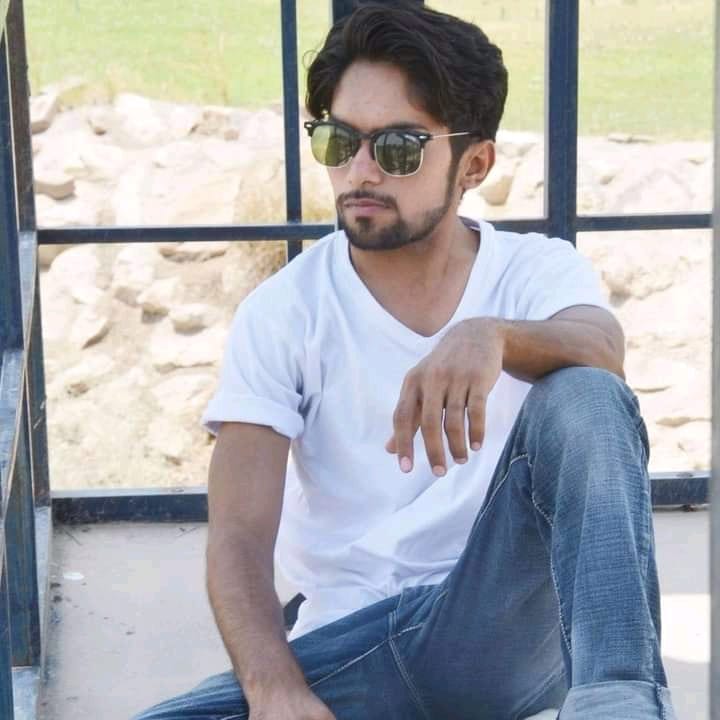 Tariq Riaz is the owner, writer and editor in chief of TheCelebrity.Online – Read more on our About Us page.
Read More From This Author At – Tariq Riaz