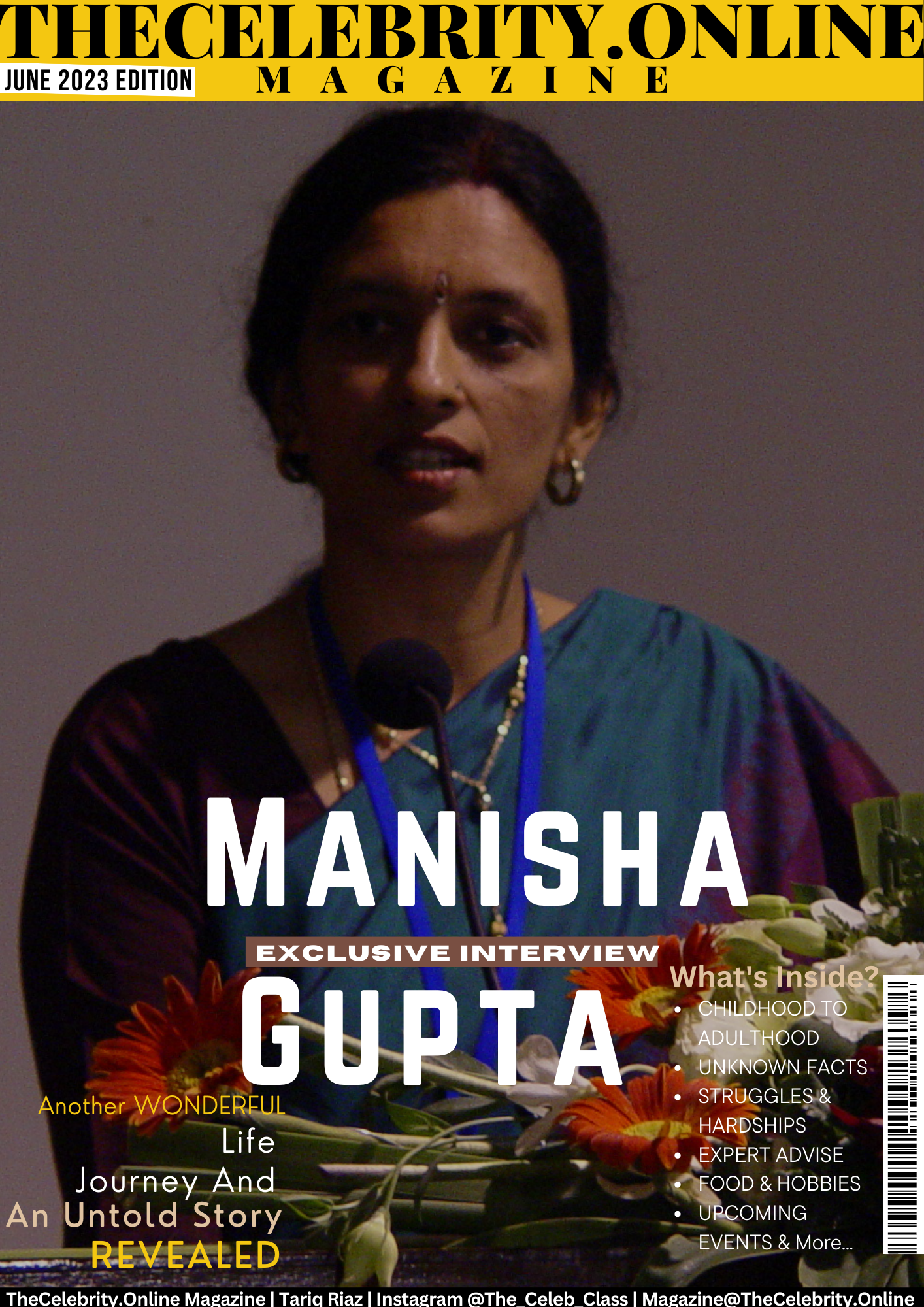 Manisha Gupta was recently interviewed by TheCelebrity.Online Magazine and below is the Q&A session we had with her.
Manisha Gupta As Exclusive Cover Story – June 2023
How do you introduce yourself?
Manisha Gupta: An autodidactic Artist, Painter, Writer & Poet who is is also a Software professional turned Intellectual Property Rights (IPR) professional (with 20 years experience) & a Training professional, turned Accidental Screenwriter, Filmmaker & Animator 7 years ago.
An education in Science, Math & Computers with a creative and innovative bent of mind, coupled with a passion for the Arts & Traditional crafts. An M.Sc. in MATH (University Topper), with Computer Programming as part of the Masters' degree, having pursued Physics, Chemistry & Math in Graduation, topped it up with a Diploma in Computer Applications and study in Software Exports.
Belonging to Dehradun (Uttarakhand), currently based in Delhi, a pioneer in India in the field of Intellectual Property Rights (IPRs) for creative & knowledge based M/SMES, have carried out consulting assignments for the United Nations (UN) regarding protection of Traditional Knowledge, Intellectual Property Rights (IPRs) and Common Brands in M/SME and Artisanal clusters through suitable IP legal instruments. I also created a roadmap & strategy for executing it at the grassroots (2003-2004). Consequently, two of India's major crafts-"Chanderi" and "Kota Doria"- filed for Geographical Indications (GIs) and were registered.
As an Accidental Screenwriter, short Filmmaker, Animator & Lyricist, won 300+ Accolades including 69 Awards for my Feature film screenplay (Debut), short screenplays, short films, Animation films and lyrics at International film festivals (Hollywood, Italy, London, Los Angeles, Beverley Hills, Las Vegas, Manhattan, Berlin, Russia, Utah, Tokyo, UK, Florence, Cannes, Rhode-Island, Venice, New York, Toronto, Korea, Singapore etc.).
My major fields of work have all been accidental, though based on my strengths and passions. Whether it was Math for my Masters' Degree or Intellectual Property Rights (IPR) & Training for my professions or Screenwriting & Filmmaking which I just stumbled into a few years ago.
I just let my 'River of Life' flow any which way, but always bounded strongly within the banks of inherent integrity, hard work, discipline & values.
It is just Serendipity that has guided my life river into its component streams at various points of time.
Childhood to Adulthood – How was your transition from childhood to adulthood and what are the bad and good things you remember?
Manisha Gupta: Brought up on a strict diet of uncompromisable value system, integrity, hard work and discipline, my creativity was valued since my childhood as my father too was very creative. A topper all along, he joined the Indian Forest Service but continued to take out some time for his creative pursuits like photography, which he was excellent at, sketching and playing the Violin. He was great at writing too both in Hindi and English. I guess I am blessed with all his creative qualities and in becoming a screenwriter & filmmaker have combined all these.
He was extremely supportive of my creativity and encouraged my sketching, painting, music etc. In fact, when posted in FRI (erstwhile Forest Research Institute), Dehradun, where work-life balance was achievable, he did find time and he and I used to go to a music school where he honed his skills further in playing the Violin and I learnt to play the Sitar. And he being a Math exponent, I guess that's why I loved Math so much that I ended up doing a Masters in Math. I also learnt badminton and TT from him which I continue to play. And thanks to his sudden, frequent but beautiful postings, travelling and being with nature, mostly at uninhabited places/forests, has been something I've always loved.
Having spent most of childhood in exploring the pristine environs of the Himalayas, being educated in the best convent schools in Nainital & Dehra Dun in the state of Uttarakhand, I continue to explore the forest of life with enthusiasm.
Struggle – What hardships have you gone through in life?
Manisha Gupta: Born to an honest to a fault forest officer father and a housewife mother, money was always scarce since my father was the eldest in his family and had many responsibilities to fulfil. My grand-father was a President's national award-winning teacher. I got used to budgeting and running the household expenses at a very early age since I did it in my parents' house. And it did come in handy when my husband was posted to an expensive place like Bombay in a PSU job. Having suddenly shifted to Bombay when our daughter was hardly six months old, we lived there for almost 10 years and simply loved it.
Since there was no one to be with my children even for a while, I could never take up a full-time job. Did get a Computer faculty job at a faraway school but had to quit. I did teach at a school in Gokuldham, Goreagon (E) when my daughter attended the same school. But after my son was born and I still struggled with the same situation, I worked a while at a Computer training institute but again had to quit. Had to leave any job that came my way because I did not want my children to be alone at home without any family member.
And it continued till my children finally graduated as lawyers. So, I have been working as a freelancer, whether it was in the field of Intellectual Property Rights (IPRs) or as a Training professional or as a speaker at conferences. I always took up assignments (have done consulting assignments for the UNITED NATIONS in the area of IPR) or lectures or speaking assignments to suit my children's school timings or career situations and always rushed home from anywhere to be there to receive them from school or be home so that they never come home to a locked door.
Have been "working from home" for more than 3 decades. If COVID had come 30 years ago, maybe I would have been able to continue a job as well as be with my children.
But one big struggle of being a writer/screenwriter or artist/painter and a freelancer still continues, which is that apart from your own family, a lot of other people don't value your time and space. They just don't consider writing, painting, freelancing or working from home as "working". They think working is only for those who go out to work. Though after COVID, a lot of perception has changed with respect to WFH but as far as the "work" or "time" of an Artist or Writer is concerned, nothing has changed.
What do people usually not know about you?
Manisha Gupta: That I am a Trained Mediator, a motivational speaker, certified therapeutic art coach and have a certification in Transactional Analysis. That I have since 2019 carried out extensive research & study on highly relevant issues like Mental Health, Depression, Anxiety, Cognitive Psychology, NLP (Neuro Linguistic Programming), TA (Transactional Analysis), Adolescent Behaviours, CBT, Art Therapy, Behaviour Therapy etc. That I am a Bharatanatyam diploma holder. That I founded a Happiness startup in 2011. That I founded an international Happiness film festival during COVID in 2021 which is in its 3rd edition now.
That during the time I lived in Japan, I had conceptualized the paintings that formed my exhibition of innovative paintings on Japan & the Japanese language, titled "Japan-India Friendship Through Art". This was an official event of the "JAPAN-INDIA FRIENDSHIP YEAR-2007" celebrations in Delhi and a Japanese Embassy endorsed event. That my paintings on IP (Intellectual Property) are displayed on the website of a Geneva based International IP Organization.
What sets you apart from your competitors in the industry and in life?
Manisha Gupta: A unique piece with a set of value systems where there is no room for grey based on sheer integrity, upbringing, background, skills, interests and even the innovative combination of my areas of work. Basically, a unique blend of the traditional and the modern, retaining the best of both.
Having been brought up in a middle, service class family and having lived most part in the forests or hill stations, writing, painting, creativity have formed most part of me.
Being an Amateur Indie short filmmaker and a self-taught screenwriter with each of my screenplays winning multiple awards, I look forward to my multi-awarded Debut Feature Screenplay to be made into a film. I write with strict discipline. My unique stories or screenplays will hopefully appeal to large audience across geographies. They each have a critical social issue at their centre and are in the genre of mystery and thriller. Moreover, it is family oriented, entertaining but clean content focussing on many a women's issues.
In the IPR (Intellectual Property Rights) sector, which I began work in around 2003, when the subject of IP was in very nascent stages in India and there were hardly any people focusing on IPRs for the grassroots, I was focussed on using the legal mechanism of Intellectual Property Rights as a tool for the protection of rights of grassroots communities of Artisans & Crafts persons, protection of Traditional Knowledge in Artisanal Clusters and the rich intangible cultural heritage of the country. Apart from this my focus was on the IP tool of Geographical Indications (GI) for protection of common brands in the traditional arts & crafts of India and thereby use IPRs as a tool for empowerment of creative grassroots communities, specially women, to boost business at the bottom of the pyramid and sustainable grassroots development.
In the field of training, my aim and objective has been to train the target audience in the best possible fashion on whatever the topic or subject and whoever the audience. I have the experience of having trained a vast and varied audience in status, age and strata. From the highest level government officials & topmost professionals to Engineering college faculty & students right to the grassroots level people, the audience included Lawyers, Doctors, Police personnel, Senior Officials of Ministries from 15 countries, Senior & middle level officers of Govt. of India (as part of APPPA), senior & middle level Women Scientists from all over India (as part of an IPR training program of DST), Entrepreneurs, Artisans, Craftsmen, Weavers, Farmers etc. Delivered lectures on IPRs at Engineering colleges (MNIT, MAEIT), Police Academy (RPA), Institutes of Public Administration (HCM-RIPA in Jaipur and IIPA in Delhi), CCS University-Meerut and others.
Have mentored CBSE school students in the art of Haiku poetry writing at International Writers' Workshops and conducted Haiku workshop at DPS-RK-Puram. Been invited to Judge Annual Poetry competitions at DPS-RK-Puram.
As a prolific writer published Articles in various leading national dailies and reputed publications and been a columnist with a reputed national daily for 3 years.
A varied and rare combination of different forms of creativity coupled with a Math-Science background, working in the field of IPRs and having handled various audiences, finally stumbling into screenwriting & filmmaking, I can use the entire rainbow of my areas of work and experiences to paint a unique picture in my stories & screenplays.
What are your upcoming major events – Unforgettable Moments or products/services that you want to promote/inform?
Manisha Gupta: Recently I finished writing my Debut Feature film Screenplay based on my Short screenplay of the same name which had won many accolades and awards in the past few years. This Feature film screenplay has already won 11 Accolades which include 8 Awards at International Film Festivals abroad (United States, United Kingdom, Singapore etc.).
Since this feature screenplay is an unproduced one, I am now looking for producers, production houses or OTT platforms who may be interested in making this suspense, mystery, thriller film with a critical social women's issue at its core.
Apart from this, all my 10 short screenplays which have won 138 Accolades, including 39 Awards, are unproduced. I am looking forward to convert each of these multi-award-winning short screenplays into short films.
What are your food preferences and body measurements?
Manish Gupta: Not Answered.
Your family and relationships?
Manish Gupta: Not Answered.
What expert advice would you like to give?
Manisha Gupta: Well, I am still traversing the journey of creativity with passion and hard work to the destination of success. Integrity of purpose, performance and profession should stand anyone in good stead.
I just stumbled into screenwriting & filmmaking Accidentally. Like most things in life, it just happened and at that point of time I didn't know what "screenwriting" or "screenplay" meant. The only thing I can say for any creative, be it writer, painter, creator is to just keep at it and hone your creative skills. Patience, persistence and perfection are all that one can aim at.
Having lived in Japan, I've appreciated many of their things and the best one is "mai nichi renshu shite kara, dan dan jouzu ni narimasu" meaning "if you practice something every day, gradually you will become perfect at it". Guess that's the best a creative can do.
Your social media handles and website links?
Manisha Gupta: Here are the website and social media links
Website: www.logihq.com
Linkedin: https://www.linkedin.com/in/manisha-gupta-b60b43171/
Instagram: https://www.instagram.com/gmanishag6/
Blog: gm********@bl******.com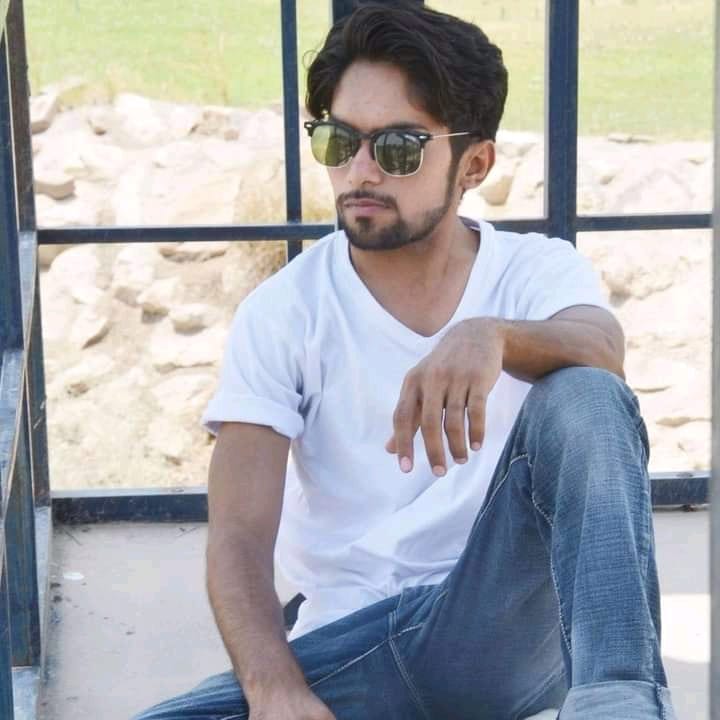 Tariq Riaz is the owner, writer and editor in chief of TheCelebrity.Online – Read more on our About Us page.
Read More From This Author At – Tariq Riaz