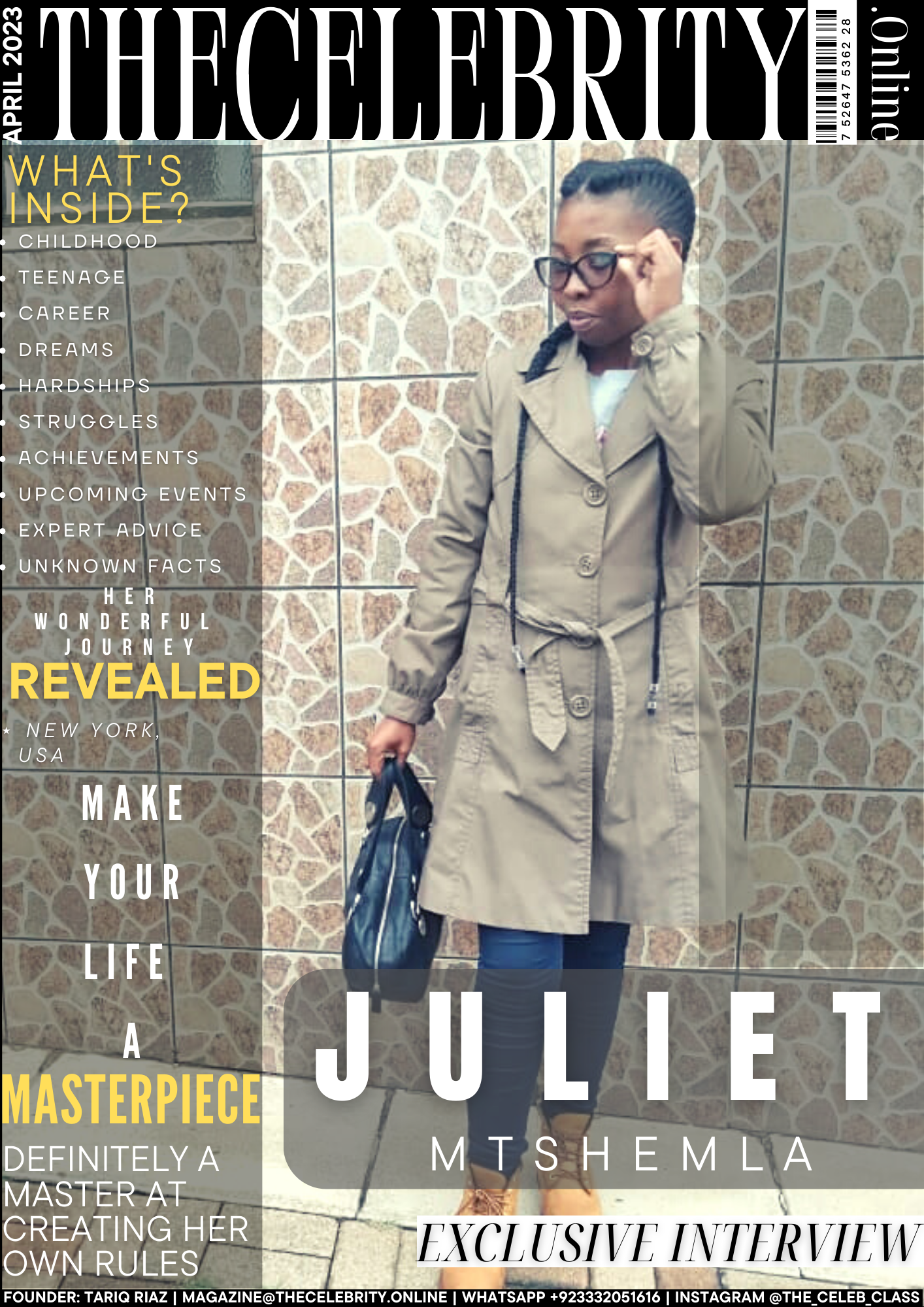 Juliet Mtshemla was recently interviewed by TheCelebrity.Online Magazine and below is the Q&A session we had with her.
Juliet Mtshemla As Cover Interview Story – April 2023 Edition
How do you introduce yourself?
Juliet Mtshemla: My name is Juliet Mtshemla, I'm 37yrs old, was born in Soweto-Baragwath Hospital. Residing in Jhb South.
How was your childhood to adulthood journey?
Juliet Mtshemla: Childhood – if there was a chance to go back, I wouldn't hesitate, The best parents ever.. [my granny,& my mom] going to church & prayer sessions & the ladies society with them. I would eat & drink & eat dessert.
At 6pm when the street lights switch on we quickly run home with my brother. I will close the curtains, my bro fetches the water with a bucket from a tap & boil water for pap.
We were not rich, but life was perfect for us. We would go to school trips, wearing Woolworths & Buffalo-kids clothing & the food, the best, mom was working at Trade centre, as a promoter-sea food was our thing. She made sure that we don't go to bed hungry, she lost her job & started selling veges in Jhb, still we survived. Come Dec. time, new clothes for Christmas & New Year. I was not doing my hair in Soweto, mom will take me to a salon in town. One of a lesson they taught us is to be there for each other, in times of need e.g if my brother needs money & I got, I must give not borrow him visa-versa & when I see the boys trying to propose, I must run for my dear life, I remember it was score supermarket, we accompanied 1 of my friend to buy bread, a group of boys following us, whistling at us, the way I ran like a headless chicken.. when my friends got home they were laughing at me, I didn't care, cos that's what I was taught at home & guess… what??? NO REGRETS. I'm a person I am today, it's because of their teachings. I thank Father God for giving me the best parents ever. They taught me not to depend on a man, I must do it for myself or else man will play with me, i must have my own things. When I started my periods they took me to a bedroom & the lecture started "Lama,my nickname you not a small girl anymore, you entering womanhood now" the way I should respect myself, carry myself around people & the way I should dress up, even now I don't leave the house without a bra, I must dress appropriate & I make sure I wear my earrings, mom would say you mustn't look like a boy, earrings it's a must.
Adulthood-Jah neh…that's when my granny passes on, May the Good Lord bless her soul, having friends, clubbing, they didn't like my other 2 friends, because of liking boys, they didn't want me to have a child at a younger age? every weekend Party, party. My 3rd year in High school, we went to a 21st Birthday, for one of my classmates, I came back the following day – hell broke loose, my mom took me to my dad, they were furious, then he said I must go for family planning, I mustn't have a child, I didn't like the idea, didn't go, I was not sleeping with boys. Every month end mom will buy takeaways, a bucket of KFC for granny, pizza for us. When she's tired of chicken, she will call us 1 by 1 to give us. Mom will take us to Truworths to buy clothes.
What hardships did you face in your life?
Juliet Mtshemla: During my High school level, I was desperately looking for a weekend Part time job, had to go to Pretoria, Acadia, when I got there, it was packed & didn't leave my C.V cos i got lost & was late & the other time a friend from school said they are hiring in Florida, stupid me I went with a friend, I passed the interview, & a manager was someone I grew up with, my friend started talking to her, the stuff saw it. I was waiting for a contract to sign, the lady who was doing an interview, said to me, go home, we will call you, don't call us. I knew that I lost an opportunity.
What do people usually not know about you?
Juliet Mtshemla: I'm a very private person, I don't share my problems with anyone, people think I'm proud, but I'm not. I'm not sure how is my walk, but Mr Ibrahim asked me "Hey cc why are you jumping", I was surprised & I just laughed, I should have said "confidence" cos I got it & I'm not ashamed to say it, I'm born with it.
What sets you apart from others?
Juliet Mtshemla: I know the next person & always willing to help where I can. There's an uncle I used to help to collect aluminum cans for him, the car will be full of tins, now I met new friends who are collecting also, it's a couple Annie & Artie, I'm keeping the tins for them also. I believe not to look down on other people cos this is life, we don't know where we gonna be tomorrow. "I'm simply the best" that was an autograph on my t-shirt by Mr Jet Novuka, a well known actor, was in Mpumalanga-Nelspruit, I was a scout in Primary school, we went there to perform,those words are still ringing in my head.
Your unforgettable moments in life?
Juliet Mtshemla: Unforgettable moments, it's when I was in Primary school. I won Miss Kwa-Phalo & Miss Spiring.
What are your food preferences?
Juliet Mtshemla: When it comes to food im not fussy.
Your relationships and family?
Juliet Mtshemla: My love life it's ok, don't have friends. My family is very supportive, I don't wanna lie.
What will be your expert advise?
Juliet Mtshemla: Its really sad to see small girls, being parents, teenage pregnancies in South Africa it's a big problem, cos these girls must have brighter future & go to school. Im not a mother & I'm not planning to be one, until I get that Big rock on my finger. Its so nice to spoil yourself, look good, smell pleasant, hair tick, nails tick, jewelry tick, makeup tick, designer clothes tick, savings & investments tick. Life is not so bad when you not a young mom.
Your social media links?
Juliet Mtshemla: I'm using FB & whatsapp. Dont have website links.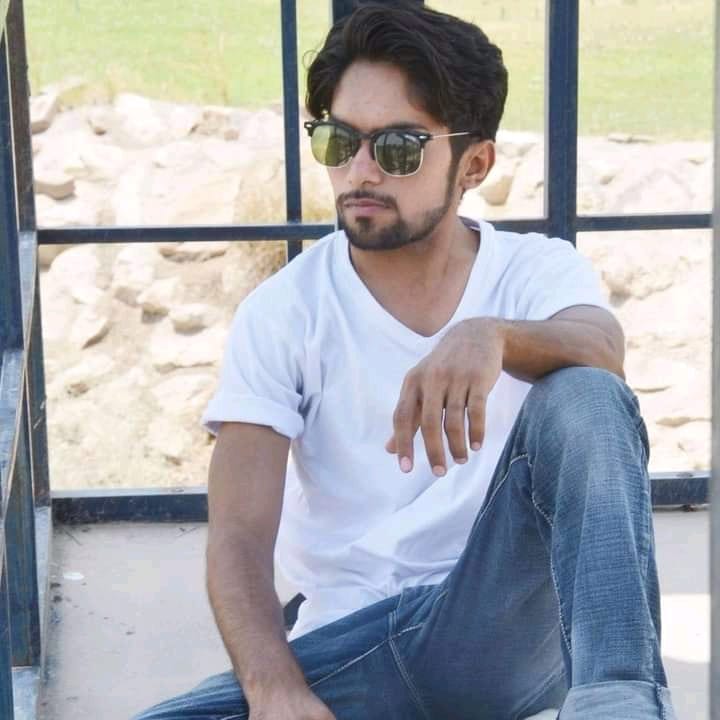 Tariq Riaz is the owner, writer and editor in chief of TheCelebrity.Online – Read more on our About Us page.
Read More From This Author At – Tariq Riaz