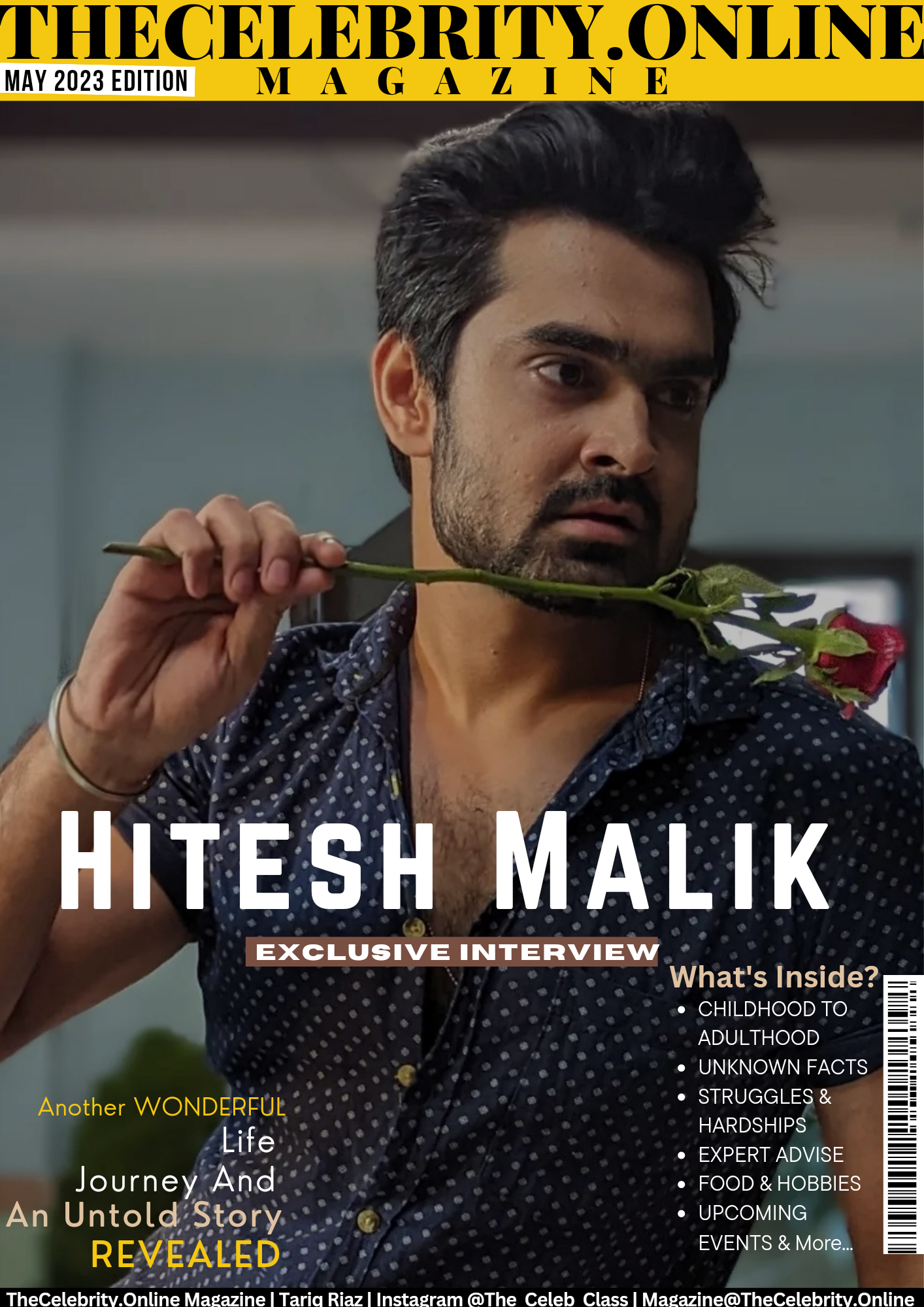 Hitesh Malik was recently interviewed by TheCelebrity.Online Magazine and below is the Q&A session with him.
Hitesh Malik As Cover Story Interview – May 2023
How do you introduce yourself?
Hitesh Malik: Hitesh Malik is an actor, director, and a talk show host. He currently works as a senior creative producer at India's one of the best content platforms named TVF. He is a Delhi University graduate with a Master degree in films from Mumbai University. He has done three years of theater in Delhi and while pursuing it, he realized that he wanted to become an actor for the intense need of expressing himself. But while playing a character, he was just expressing the character given to him, not himself. This is how writing and directing as a medium to express himself fascinated our boy. Having worked with premium production houses like Rajshri Entertainment, Essel Vision productions, SOL productions, Zee Entertainment and more, he has always tried to contribute maximum to the creativity of a project.
Childhood to Adulthood – How was your transition from childhood to adulthood and what are the bad and good things you remember?
Hitesh Malik: Coming from a small town Hisar in Haryana, working in entertainment media was a far cry. I was an average student in school. But in 11th, I took commerce as I wasn't good in science and math. And my parents wouldn't have allowed me to pursue arts. This was the time when I heard about Delhi University and the exposure it provides. For two years, I forgot that I have a life and was engrossed in academics. I got 96% marks in 12th boards which was my ticket to my dreams in a big city, Delhi.
I did theater in Delhi and started working with Delhi based production houses. 3 years passed by and this was the time to get a real corporate job, which I didn't want to do. I randomly found a film course in Mumbai and decided to go for it. The family wasn't supportive. I came on my own and started working with all sorts of work that came my way. Started with interning for no money, cut to six years, I am at a senior position at TVF, India's biggest content platform.
Struggle – What hardships have you gone through in life?
Hitesh Malik: Parents not supporting to take an unreserved train of 25 hours to reach the city. After coming to the city, I walked to all production houses with my CV. Many didn't even let me in. TVF was one of them. cut to six years, I am at a senior position at TVF, India's biggest content platform.
What do people usually not know about you?
Hitesh Malik: I love traveling and going on solo trips.
What sets you apart from your competitors in the industry and in life?
Hitesh Malik: Smart work and dedication.
What are your upcoming major events – Unforgettable Moments or products/services that you want to promote/inform?
Hitesh Malik: I have recently completed my first book as an author. The book is about bisexuality and polyamorous relationships. It is currently in the publishing process. Will be out soon.
What are your food preferences and body measurements?
Hitesh Malik: I like Indian, salads and fresh juices.
What expert advice would you like to give?
Hitesh Malik: Hear your inner self always. Be kind to yourself.
Your social media handles and website links?Instagram: https://www.instagram.com/achhaadmi/?hl=en