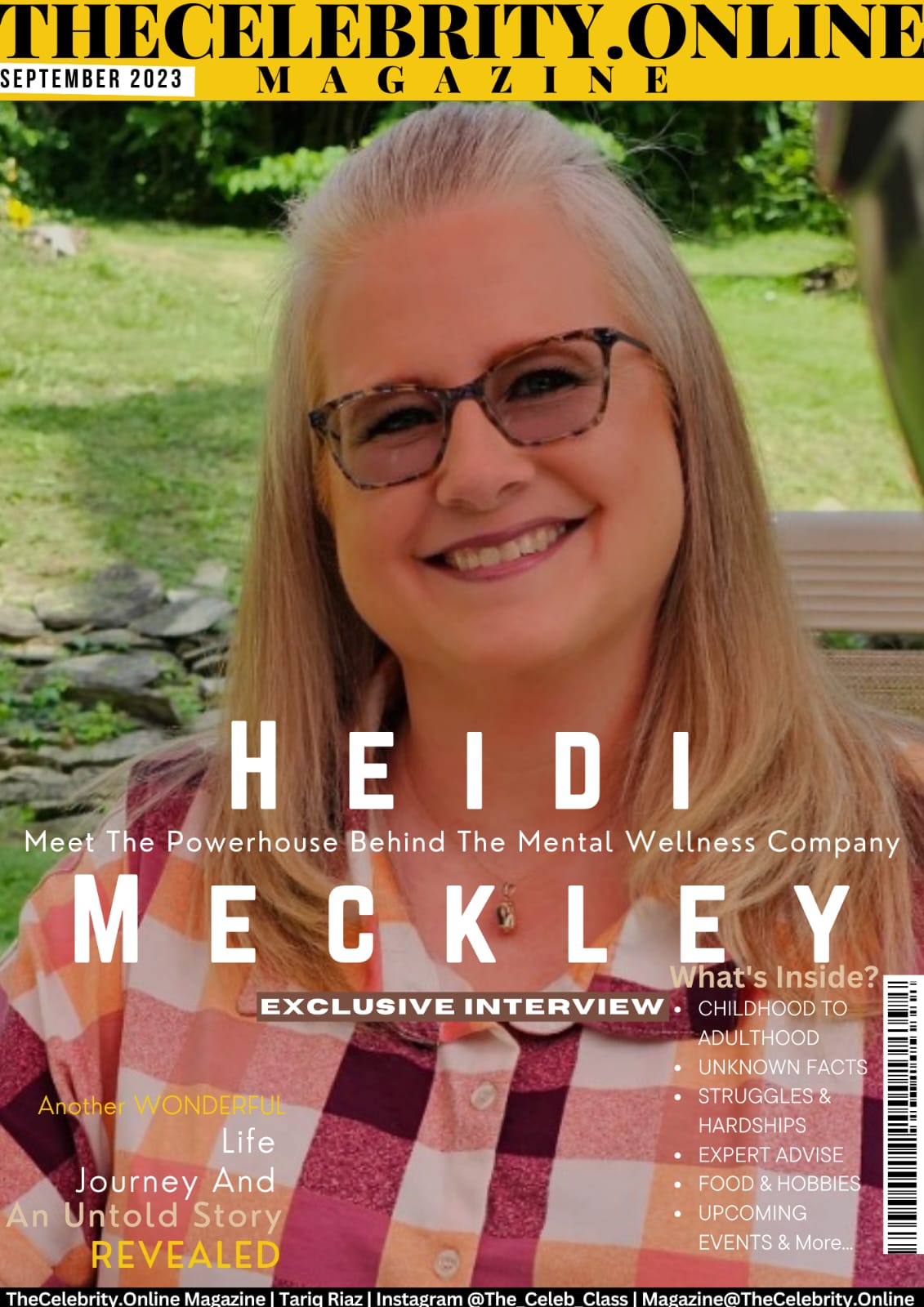 Heidi Meckley was recently interviewed by TheCelebrity.Online Magazine and below is the Q&A session we had with her.
Heidi Meckley As Cover Story – September 2023
How do you introduce yourself? 
Meet Heidi Meckley, the powerhouse behind The Mental Wellness Company, the creative genius at Heidi's Fabulous Faces, and the guiding light as an Accountability Life Coach. She's the kind of person who doesn't just move the needle but practically gives it a turbo boost!
With over three decades of experience in the direct sales industry, Heidi isn't just a seasoned pro; she's practically the Yoda of sales. But her coaching journey isn't new either; she's been coaching folks for most of her life. And if that wasn't impressive enough, she's also a published author of the enlightening book, "The Time is NOW and The Choice Is Yours!" Are you going to take it?
Heidi's mission is clear: in the next two years, she aims to help 300 or more people not only discover their path to health but also to live their absolute best lives. She's not just talking the talk; she's walked some challenging paths herself. In 2019, after an unfortunate fall, she found herself grappling with Post Concussion Syndrome, an invisible injury that tested her resilience. But after nearly two and a half years of unwavering determination, she not only recovered but reclaimed her life. Now, she's on a crusade to assist others with unseen injuries in feeling better and living their best lives.
But wait, there's more! Heidi's also set her sights on another impressive goal: to help 250 or more individuals over the next two years master the art of self-accountability and supercharge their businesses through Accountability Coaching.
If you're curious to learn more about all the incredible things Heidi has to offer, take a peek at her LinkTree and get ready to be inspired: https://linktr.ee/heidisleaders
Childhood to Adulthood – How was your transition from childhood to adulthood and what are the bad and good things you remember?
My childhood, well, let's just say it wasn't exactly a walk in the park, but it wasn't a total horror show either. From as far back as I can remember, people always seemed to peg me as older than my years. By the ripe old age of 14, folks were convinced I was pushing 18 or maybe even 20. And when I hit 16, well, I might as well have been a seasoned adult in their eyes. The divorce of my parents and the whirlwind of life's challenges forced me to grow up faster than most kids my age.
Yet, in the midst of the chaos, there was one constant source of joy: family travel. While my parents were still together, we seized every opportunity to explore new places. Those adventures left an indelible mark on me, and I guess you could say I caught the travel bug, big time.
Now, here's the kicker: despite what my friends might have thought, we weren't rolling in dough. Sure, we had some cool stuff like mini bikes, musical instruments, and even a go-kart, but there were times when I'd invite my buddies to check out our kitchen cabinets, and they'd quickly realize that we didn't always have much to fill them with. Life has a way of teaching you some valuable lessons, and mine included understanding the value of both experiences and the occasional empty pantry.
What hardships did you go through in your life?
So many. Growing up, life threw its fair share of curve-balls my way, but I recognize that there are countless others who've faced even tougher challenges. The turning point in my childhood was my parents' divorce, which left us spending a significant amount of time alone at home. It's a chapter of my life that I've explored in my book, and one of its chapters is aptly titled "More Than 9 Lives." You see, there have been moments when I should have met my maker, but it seems like someone upstairs has a plan for me.
Picture this: a day when I was walking to a friend's house, and out of nowhere, I found myself standing at a phone booth with a revolver pointed at my head. Another time, while accompanying a friend to her place, a car deliberately swerved towards me, and it was only her quick thinking that spared me from being hit. I've even been on the wrong end of a brand-new hunting arrow that ended up lodged in my forearm. Hospital visits became almost routine; I've had moments where they nearly lost me on the operating table not once, but twice. There was also that memorable incident when I was unceremoniously introduced to a barbed wire fence, face-first, leading to an urgent trip to the ER.
And if that wasn't enough, in 2019, I had a tumble that resulted in not one but three head impacts, culminating in a severe concussion. That concussion marked the onset of Post Concussion Syndrome, which, let me tell you, has been quite the rollercoaster.
But there's more to these stories than meets the eye. In fact, I've put together a mini-book that offers a deeper dive into these incredible escapades, all in an effort to promote my full book. If you're itching for more jaw-dropping tales, I've got just the read for you!
What do people usually not know about you?
Ah, that's a terrific question. You know, there are a few things about me that might not be immediately evident when you meet me or follow me on social media. For starters, I've got a talent for cussin' that could rival any seasoned trucker – it's a skill I keep in my back pocket. I'm also a bit of a tomboy at heart, but I've got a soft spot for taking care of my skin, and I can spend hours pampering myself.
But here's a fun little secret: I'm often found behind the wheel of our trusty tractor, and I can honestly say I spend more time on that beast than my husband or son do. There's something oddly satisfying about taming the land.
And just to add a touch of unexpected flair to the mix, I've got my very own chainsaw – yep, you heard that right! I'm not afraid to get my hands dirty and venture into the great outdoors to cut things up. It's a hobby of mine that might surprise a few folks.
What sets you apart from others in industry and life?
What truly distinguishes me from the rest is not just my whirlwind life experiences but also my gift as an empath. I have this uncanny ability to sense when someone's concealing something or weaving a web of untruths. When that happens, I approach the situation with compassion, gently nudging them to confront the root of the issue and guiding them through it.
On the accountability front, I excel at holding people to their commitments and motivating them to put in the effort. Why? Because they know that every push from me is wrapped in genuine care, and they wouldn't want to let me down.
However, let me make one thing crystal clear: if the individuals I choose to work with aren't putting in the effort, skipping out on their homework, and essentially not investing in their own transformation, I have no qualms about cutting them loose. It's a matter of respecting both of our valuable time. I'm here to work with those who are wholeheartedly committed to making significant changes in their lives, and half-measures simply won't cut it.
What are your upcoming major events?
Currently, I'm fully immersed in several exciting ventures. First and foremost, I'm passionately engaged in the promotion of my recently launched book on Amazon, which made its debut in August. Simultaneously, I'm channeling my creative energies into the composition of my second book, a project that's been steadily taking shape.
But there's more on my plate: I'm actively seeking out opportunities to attend events and engage with like-minded individuals, fostering collaborations that have the potential to spark something truly extraordinary.
Moreover, I'm committed to expanding the reach of my coaching programs. My ultimate aim is to empower and serve a broader audience, enabling them to experience profound breakthroughs in their lives.
Your family and relationships?
I am on my second marriage to the love of my life, Dan. We were junior high sweethearts and found each other again when we were both going through divorce. We have been through some stuff in our short time together, but we face it together which makes us stronger. 
What expert advice would you like to give?
The expert advice I would give is this:
You were put here on this earth to something much bigger than you. Follow the pull and dreams you have because it will lead to amazing things in your life that are beyond what you can imagine. 
We get so caught up in ourselves that we can't see the bigger picture. That's how you end up with regrets. With all I have been through people always ask me if I would change anything. The answer is and always will be the same. No. I wouldn't be the person I am today without the trials, struggles and traumas of yesterday. If one thing was changed I would be who I am right now!
Your social media handles and links?
Insta: Heidi Meckley
LinkedIn: Heidi Meckley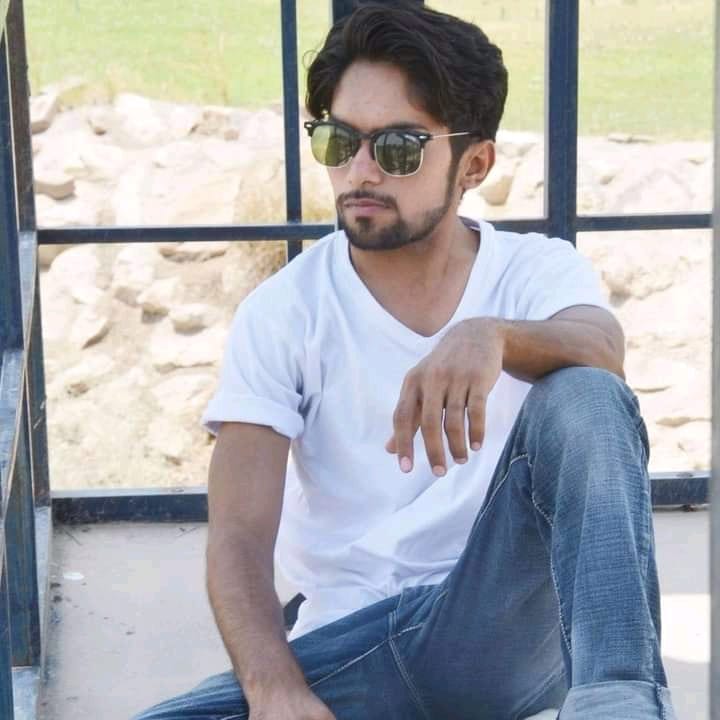 Tariq Riaz is the owner, writer and editor in chief of TheCelebrity.Online – Read more on our About Us page.
Read More From This Author At – Tariq Riaz