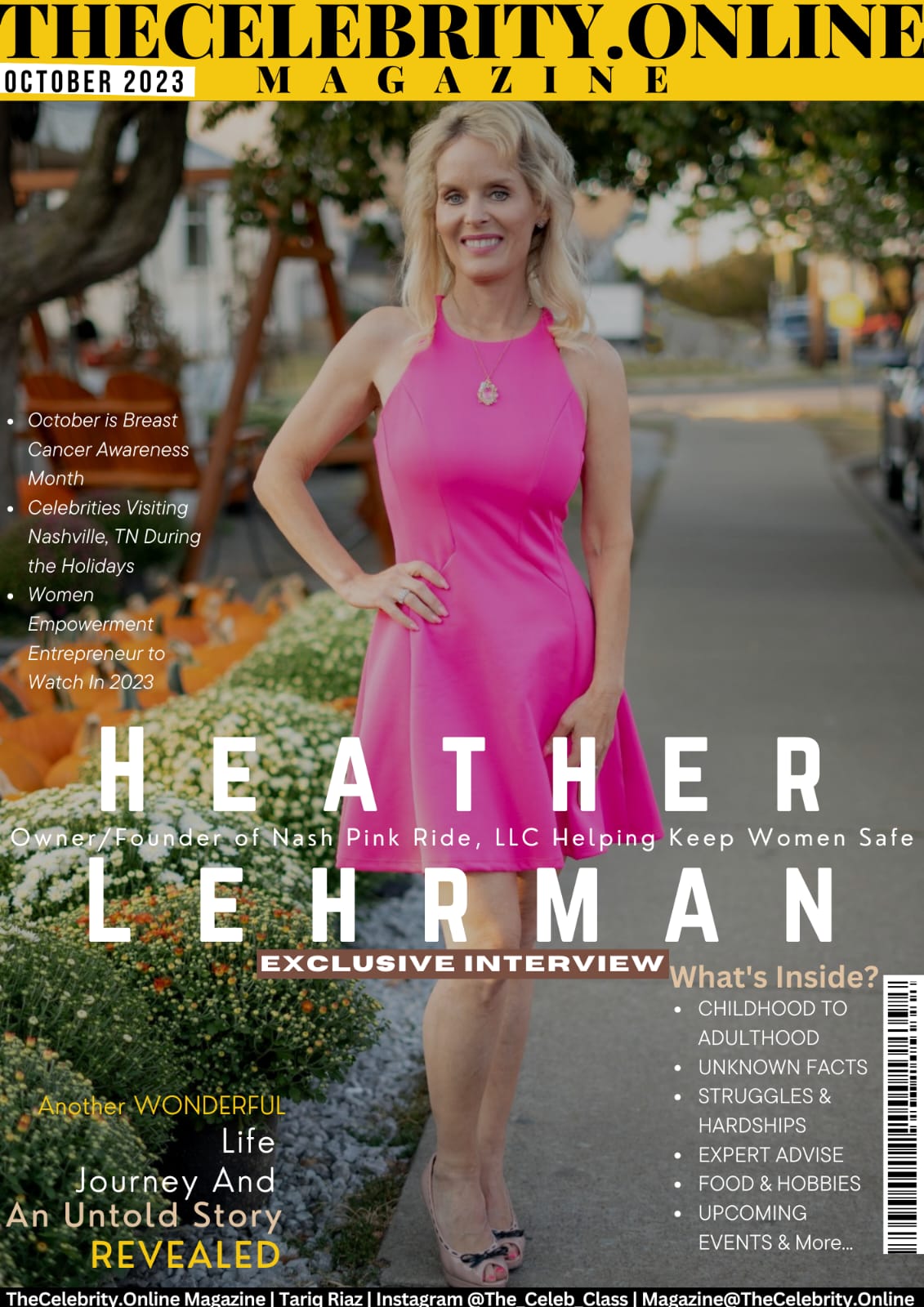 Heather Lehrman is the Owner/Founder of Nash Pink Ride, children's author, and host of SOS Comedy in Nashville, TN. She is a Long Island, NY native who owned a pet Services business for 10 years which she sold during the Covid Pandemic.
She wrote a children's book called "Bullied at the Dog Park" which came out in October 2014 and then was reprinted in 2020. Her book was read at elementary school assemblies, Girl Scout Troops, Boys & Girls Clubs, and many book signings at local bookstores. "I teach young children about bullying through dog characters. It's a simple message of kindness and acceptance.
Unfortunately, Hurricane Ida came to town in 2021 and dumped 8 inches of water in her home which destroyed hundreds of her books. "I am still looking forward to get them re-printed."
Heather Lehrman was recently interviewed by TheCelebrity.Online Magazine and below is the Q&A session we had with this wonderful lady.
Heather Lehrman As Cover Story – October 2023 Edition
Share your background and what led to Nash Pink Ride?
I needed a change and a fresh start, so I packed up my car and moved to Nashville in June of 2022. As soon as July of 2022 (one month after moving here), I started the Germantown social meet-up group which has over 500 members already. I set-up meet-ups for all different types of events, we went to 80's Night in Five Points for my last meet-up. I made great friends through my group.
I became a tour guide back in May and learned two things. Transportation is needed all over town and women don't feel safe getting into other ride-share cars. Of course, we are also the bachelorette capital of the world and I see the girls dressed in pink all day.
A lightbulb went off in my head and I took my car to get wrapped in pink glitter and started Nash Pink Ride. A car that women can feel safe in. They know who's picking them up and I know who's getting in my car.
If you are visiting Nashville, TN this holiday or planning on holiday parties? Nash Pink Ride is reservation-based, so bookings must be made in advance. Just go to www.nashpinkride.com and fill out a quote.
Nash Pink Ride was recently on the news.
Childhood to Adulthood – How was your transition from childhood to adulthood and what are the bad and good things you remember?
I had a great childhood in my younger years. I played soccer since I was 5 years old and loved being part of a team. I felt that connection that I learned later in life, just how important being part of a community mattered. I went to dance classes too. That was a bond that I had with my mother. She loved to dance. I remember the thrill I got on stage at my recitals and putting on those costumes just made me feel so amazing. I have loved getting dressed up ever since.
I did typical things with my school friends. We went to the mall, the movies, each other's houses and got silly at our slumber parties. It was a fun time in my life.
Things drastically changed when I was about 14 years old. My parents got divorced and my mother moved out of state. I did have the choice to go with her but she had a new boyfriend and I wanted to stay in my local neighborhood with my school and my friends. My mother and I lost contact after that. This was a dark time in my life and I relied on my father and my brother but mostly the mothers of my childhood friends. I felt close to them. I was always at their homes.
The transition into adulthood was very tough for me. I relied on myself a lot. I grew up pretty quickly. I had to learn things that only your mother could teach you but on my own. I felt like I was 30 years old at 15 although I still did all of the fun things that a 15 year old should do.
I became a very strong young lady. I knew in the back of mind that my life can go two ways. I could have gotten into drinking, drugs or even gotten pregnant. OR I could stay on track and become whatever I wanted to become. I was still in high school, so I had time. A teacher asked my senior class what we all wanted to be when we grew up. My answer was "I want to be Julie on the Love Boat" I just wanted to help people and enjoy my career. So I ended up being a flight attendant afterall! My mother's absence made me the woman that I am today.
Struggle – What hardships have you gone through?
I have had many struggles and hardships like everyone else. My father was not a healthy man and I found myself caring for him (on and off) for most of my life. I always needed to stay close to home. There were a couple of times that I wanted to move out of state but couldn't do it.
He was (besides my brother), the only man that I could rely on. I held back and gave up things in my life for him but I do not regret it. My father taught me so many wonderful things. He passed away in 2009 but 4 months prior to that, I received my BS degree in business and he never smiled so hard in his life. Education was the most important thing to him. I thrived in Marketing of course!
What do people usually not know about you?
People usually do not know that I lost one parent at 15 (her real passing was also in 2009 ) and my father passed away in my mid thirties. I feel like my life didn't really begin until then. I was finally able to do whatever I wanted to do and go wherever I wanted to go without worrying that I'd have to run back home for an emergency.
I did everything! I traveled, I started a little show called "Hangin' out with Heather", I did a few short films, print modeling, theatre and started to do stand-up comedy. I felt like a million bucks!! I was free yet alone and still fending for myself. I did have a long term boyfriend and I also got married. The marriage didn't last too long but I have hope that I Will meet my soulmate.
What sets you apart from your competitors in the industry and in life?
What sets me apart from my competitors is my passion to help women, my pink glittery car, and my reservation based model. Women can feel safe knowing who their driver is. They can spot my car from a mile away (even at night) and I make sure they walk in their door.
What sets me apart in life is my passion to connect people and make sure that no one feels left out or different.
What are your upcoming major events-unforgettable moments or services that you want to promote/inform?
Nash Pink Ride, LLC of course! My new business that I started to make women feel safe getting a ride. My car is pink and glittery and women feel safe booking me as a private driver for them. I am a reservation based car service geared towards women, students, and elderly but I live in nashville the "Bachelorette Capital of the world" and love taking these ladies all around town.
I just launched my business on 8/1 and I have been on the local news five times and radio shows a few times too. I made a splash in town and I couldn't be happier! I am provided a well needed service for women that just don't feel safe getting into other rideshare cars. I have heard some pretty horrible stories. I never expected the reaction that I have been receiving. Men are just as thrilled about my business as women. They feel much better about their mothers, daughters, girlfriends, and sisters getting in my car too. I love that my business is becoming a big part of the Nashville community.
What are your food preferences?
I love pizza! I am a New Yorker afterall. I also love Thai food and a good steak once in a while.
What expert advice would you give?
Go for it! If you have a passion and a great idea for a business, make it happen. You will find a way. It's hard work and a lot of hours spent but seeing your "baby" grow is the most rewarding thing in the world.
Please share your social media handles and website links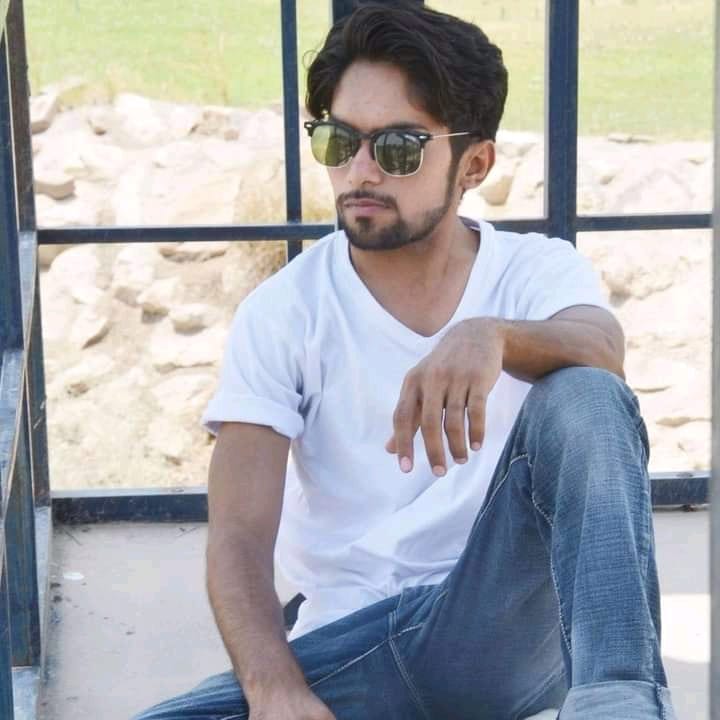 Tariq Riaz is the owner, writer and editor in chief of TheCelebrity.Online – Read more on our About Us page.
Read More From This Author At – Tariq Riaz