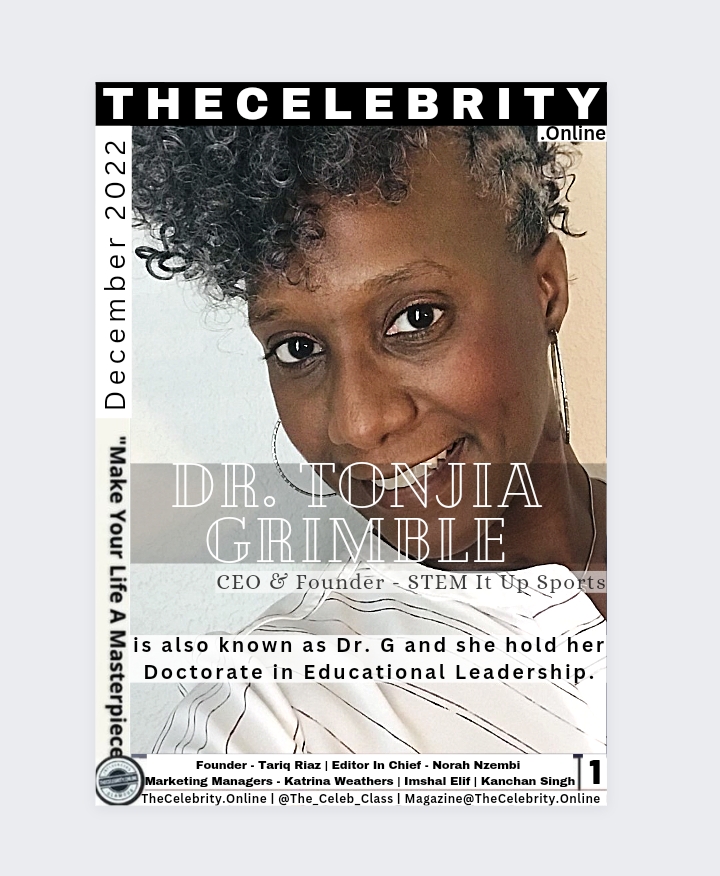 Dr. Tonjia Grimble is also known as Dr. G, and she is the CEO and Founder of STEM It Up Sports and creator of STEM Vanguards Corporation. Dr. Tonjia Grimble hold her Doctorate in Educational Leadership specializing in Curriculum and Instruction. TheCelebrity.Online Magazine has recently interviewed Dr. Tonjia Grimble and below is the Q&A session we had with this wonderful personality.
TheCelebrity.Online: Tell us about the STEM It Up Sports?
Dr. Tonjia Grimble: My passion for STEM awareness for youth spans from ages 4- to 99-year-olds! That's correct! STEM It Up Sports provide robotics instruction to our Golden Agers with participants as old as 92 years. We hope that by including Golden Agers, we will help decrease their chances of Alzheimer's and Dementia.
Dr. Tonjia Grimble As Cover Feature – TheCelebrity.Online December 2022 Magazine Edition
Within my career, I have managed STEM engagement for youth in under-served areas around the metroplex and help prepare our youth for college and career opportunities through collaboration with community partners and corporations. As a professor, I have taught and developed ECE, K-12, and General Education courses in Higher-Ed sector within various university institutions.
"I specialize in ECE consultations and curriculum design with the integration of STEM instruction" – Dr. Tonjia Grimble
My publications include Teacher Professional Development Challenges for STEM Education: A Case Study, STEM & Cross-Collaboration Instruction currently available in all university libraries including Harvard, Why Start STEM Experiences in the Early Years, STEM &Cross-Collaboration Instruction, and more.
At STEM It Up Sports, our mission is to motivate youth to analyze the collaboration of STEM core components with a primary focus on the incorporation of technology designed to encourage originality, promote the design thinking process, build self-confidence, and strengthen leadership qualities.
We strive to provide STEM experiences to all ages using robotic engagement with an established and accredited curriculum. Everyone deserves the opportunity to explore STEM in a fun and inventive way.
TheCelebrity.Online: Childhood to Adulthood – How was the transition from your childhood into adulthood/teenage and what good and bad things you remember?
Dr. Tonjia Grimble: My early childhood had a few struggles, but it was not until I entered a public school that I started to blossom. I discovered my love for track and field and would learn I was good at it. My event was the 800 meters, and I would become a State Champion for Lancaster High School from my Sophomore year to my Senior year.
"My journey into college was not smooth through track and field, I suffered an injury causing them to drop my scholarship" – Dr. Tonjia Grimble
This meant I needed to pay my way through college, and it was for the best. My passion for the sport faded and a new passion began, STEM. My first job involved a childcare worker role for an astronaut and his family. I was fascinated by his job and ensured I taught his children all things science.
He and his family were scheduled to move to Florida which meant I would no longer care for his children. He referred me to the Ed White Children Center on the NASA grounds and that was the first time I ever received a job without even interviewing for it. It was the best first job that taught me so much about STEM before it was called STEM.
They paid for some of my college degree and invested in my curriculumdesign passion. The entire experience taught me that true character shows best when you think no one is watching but they were watching me and believed in my talent. It was this job that confirmed my desire to work with youth and I have spent my entire adult life trying to become the teacher I wished I had as a little girl.
TheCelebrity.Online: Struggle – What hardships did you face during life?
Dr. Tonjia Grimble: My childhood involved me moving from various private schools. My parents only wanted me to receive the best education. What they did not know was that I experience a lot of racism that I began to normalize because I did not know any better and did not understand what racism was. I struggled with reading aloud in class due to a fear of speaking in front of crowds.
I could read but anxiety would come over me causing me to forget all the words on the page. At one private school, they would make the students come to the front of the class and read aloud. Looking back, I did not even realize I was the only black in my class. I was told to stand in front of the room and read. I began to stumble on words and would hear laughter in the room.
The teacher would not discipline the students for this outburst and demanded I keep reading it over and over until I got it correctly. Under that pressure, I could not get it right and as a punishment, I was sent to a room to practice reading. The room I was sent to was small and could only fit me, and had a desk squeezed in it. Next to my desk was a mop and a faucet. My discipline space was a storage closet. I remember not being bothered by this space. It was a way to get away from the noise and allowed me to read in peace. I soon did things to get the teacher to send me there. I owned the space at this point and could study in peace.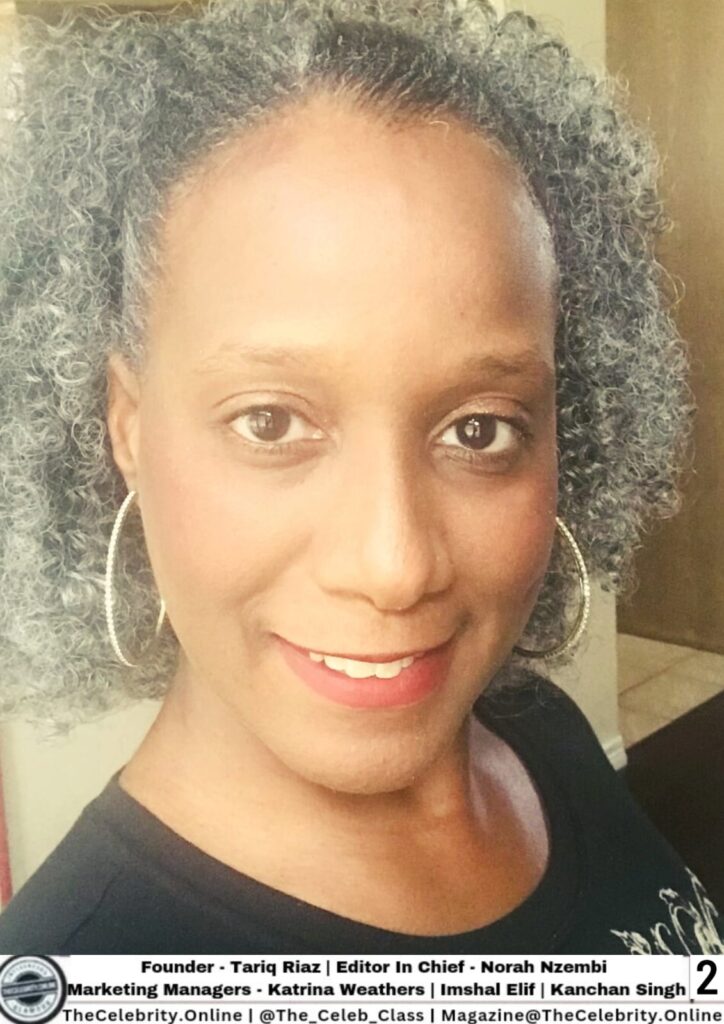 This went on for weeks, until my mother came to pick me up one day for a dental appointment. That day, I was sent to the room without hesitation and forgot to give my teacher the note my mother sent explaining I would be leaving early. My mother wore the kind of shoes that would clank down the halls, so I knew her when she was coming. Before she could get to my room, I opened the door to surprise her. It was a surprise she was not expecting. She inquired why I was in the mop closet and not in class.
At first, she thought I was playing around and missing class. I then explained to her, this was my special room that I go to daily to do my work in peace. When she saw the desk and my work and how small the space was, she was extremely angry. I never saw my mother look so mad.
The words she had for that teacher, I cannot repeat but she directed me to collect all my things and I withdrew from that school that day. This was the first talk my mother gave me about racism and the hate it causes. My trust in teachers changed once I learned this and I began to replay many situations in my head of when I was mistreated. It made learning environments difficult for me from that point.
TheCelebrity.Online: Things people usually don't know?
Dr. Tonjia Grimble: When I am not teaching computer science, I am baking sweet treats for friends and family. I love the science of baking and I'm not afraid to try different recipes. I don't just follow one, I research several and combine the things l like most about each recipe.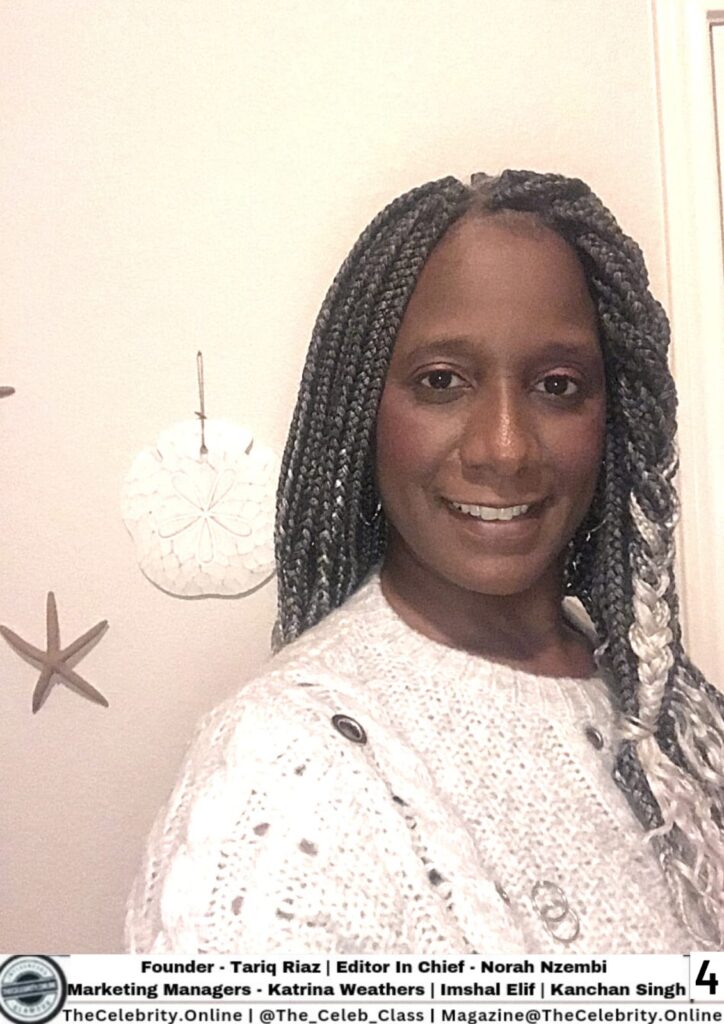 This makes it fun and becomes original. When I lived in San Diego, I made and bottled barbeque sauce to sell at a local market. However, obtaining a food license to sell at a market was difficult. So, I sold them to anyone that wanted a bottle. Cooking calms the soul especially when you get the chance to eat your meal.
TheCelebrity.Online: What make you different from your competitors in the industry and life?
Dr. Tonjia Grimble: Computer science careers are growing and by 2030 it will be one of the largest employment markets. STEM It Up Sports offer opportunities for all ages to engage in this field through fun coding innovation and exposure to demonstrate skill performance.
This would include senior citizens that want to explore something new. We help our participants focus on the mechanics of coding and how it is relatable in the real world. We also demonstratethe evolution of STEM throughout our history pointing out how slaves invented various forms of equipment to help them in the fields or codes established to help them escape. Many of our ideas today are an extension of what we learned from our past.
TheCelebrity.Online: What are the major Upcoming Events & Unforgettable Moments or products/services that you want to promote/inform our readers about?
Dr. Tonjia Grimble: We currently partner with the robot company we use to provide instruction called Sphero Edu. They have developed a computer science robotic competition that has a heavy focus on coding. We are the organization in the country to offer this competition in person for the community. Our Regional Competition occurred in November with 14 teams participating.
Our State Competition will be held Saturday, March 4th at the University of North Texas at Dallas campus from 10am to 1pm. We are offering teachers a symposium to learn more about the competitions and how their students can participate in the upcoming school year and a tour of the competition in action. There will be 20 teams competing with an additional preschool team and two senior citizen teams.We are offering students an experience by ensuring they have a meal, swag gear, university experts to discuss careers, and many awards.
TheCelebrity.Online: What 'Expert Advice' you want to share with the readers about professional and social field of life?
Dr. Tonjia Grimble: Many times we encounter professionals in the field that inspire our spirits into action. My advice to anyone starting a new career or role, believe in your process and think beyond what you think you can accomplish. We always administerour passions the best way we know how, but to constantly study and build your craft can be rewarding to the very people you are born to service.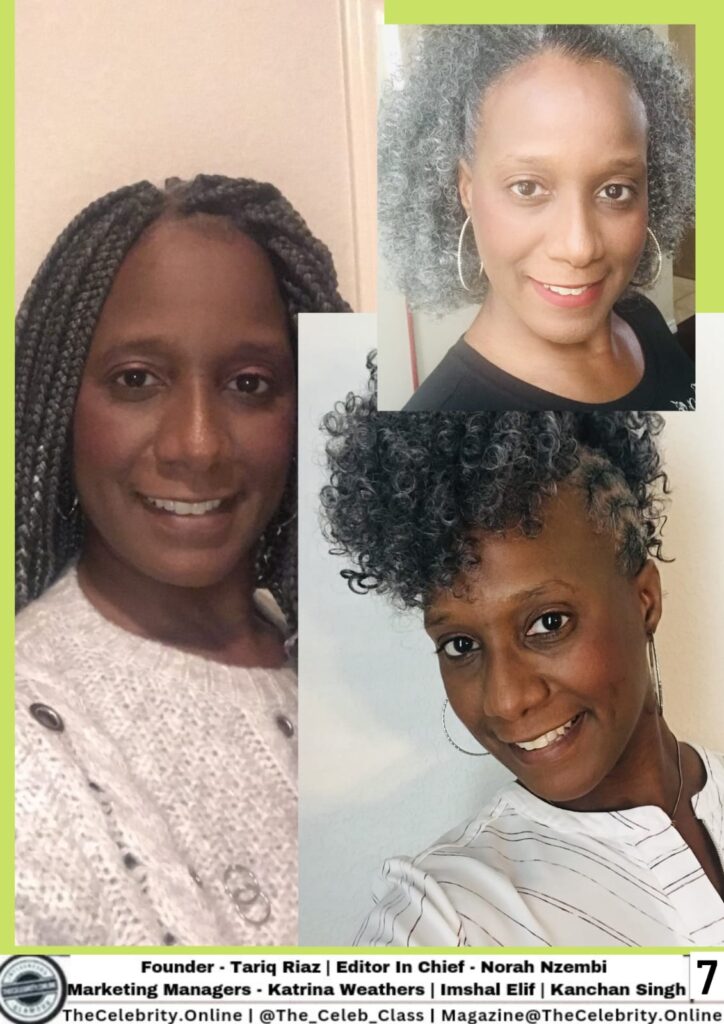 Using your experiences and the experiences of others to benefit your craft. In other words, show up and show out like you never thought you could do. My success comes from believing in myself and my process to achieve my personal and professional goal. If you can believe in your internal process, the world is ready to receive you.
TheCelebrity.Online: Your social media links and more?
Dr. Tonjia Grimble:
STEM It Up Sports (@stemitupsports) • Instagram photos and videos
Stemitupsports | Mansfield TX | Facebook
STEM It Up Sports LLC: Overview | LinkedIn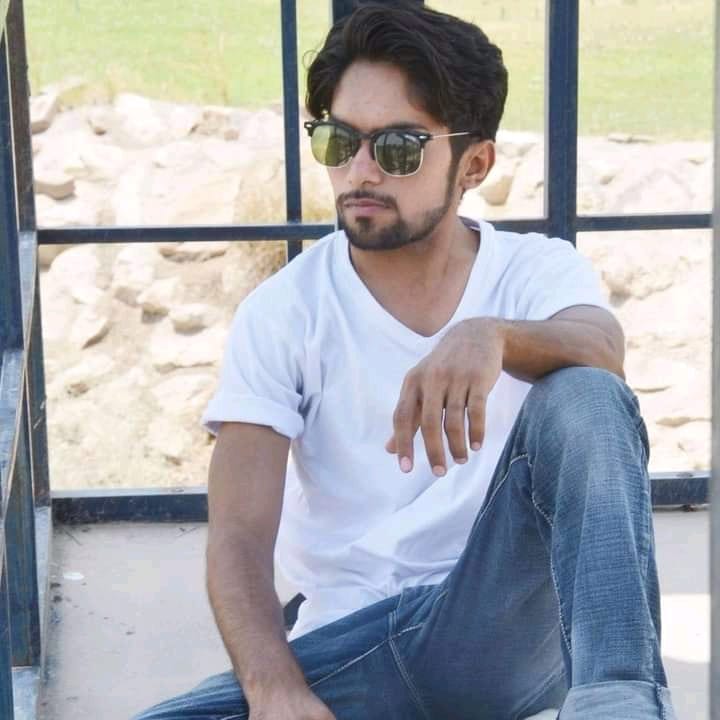 Tariq Riaz is the owner, writer and editor in chief of TheCelebrity.Online – Read more on our About Us page.
Read More From This Author At – Tariq Riaz