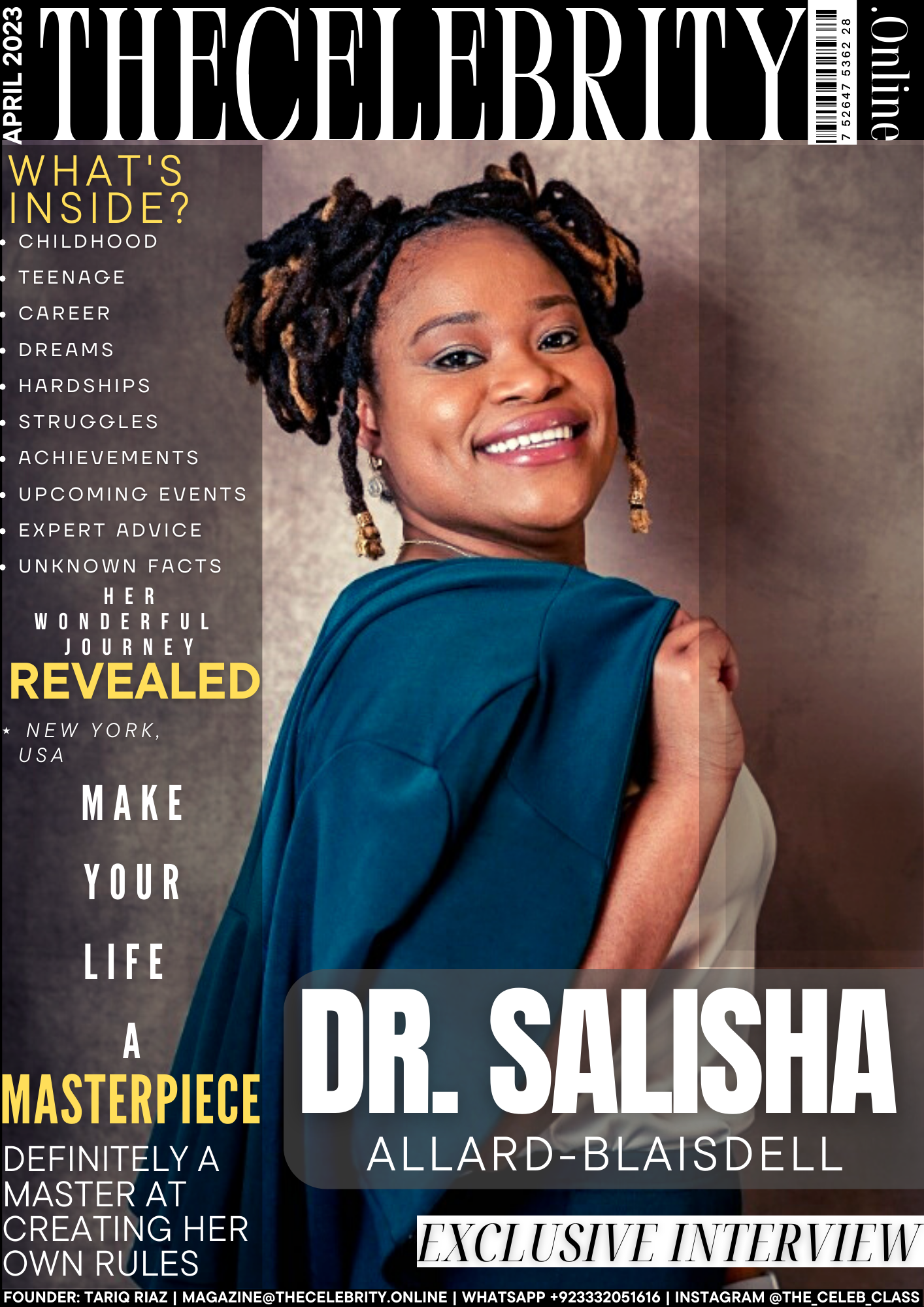 Dr. Salisha Allard-Blaisdell was recently interviewed by TheCelebrity.Online Magazine and below is the Q&A session we had with her.
Dr. Salisha As Cover Interview Story – April 2023 Edition
How do you introduce yourself?
Dr. Salisha: I am Dr. Salisha Allard-Blaisdell, a trailblazer from the Eastern Caribbean island of Grenada. I hold a Ph.D. in Organizational Leadership with specialized training in Business Leadership and Consulting. I am a Positive Youth Development (PYD) researcher and serve in the capacity of a Personal Branding and Leadership Development Consultant. As a personal branding consultant, I support women from diverse backgrounds to realize their potential and pursue their goals. One of my most recent successes includes enabling a Registered Nurse who has become the first individual in her lineage to pursue an advanced degree, particularly a Doctor of Nursing Practice (DNP).
The RN in question has been practicing for the past 11 years in NYC. As a leadership development consultant, I lend my talents to GK Folks Foundation as their Development Director, where I amplify organizational effectiveness through programmatic development, strategic partnerships, writing of various funding proposals (grants, sponsorship requests, etc.), and the leadership development of its members.
Childhood to Adulthood – How was your transition from childhood to adulthood, and what are the bad and good things you remember?
Dr. Salisha: I was born and raised in a multigenerational cycle of poverty; as a result, my transition from childhood to adulthood has been challenging. I lost my birth mother at the tender age of 9; I later lost my birth father at age 15. Before their death, my childhood consisted of little to no food, frequent absences from school, and an inability to read until age 12. Learning to read at 12 was one of my most memorable childhood experiences, as it opened the doors for me to advance to the next grade level. Having repeated two grade levels at the primary/elementary school level, learning to read was a huge milestone.
One extraordinary and happy childhood experience I remember was when my siblings and I played Hide-N-Seek in the trees. We loved climbing, and anyone could almost always find us playing or picking fruits on a tree.
Struggle – What hardships have you gone through in life?
Dr. Salisha: As I look back, three significant adversities impacted my life:
The first challenge was the loss of my birth parents; I remember how surreal it was for me to go to the hospital to say goodbye to my mother for the last time. I was nine years old then, but it felt like it was just yesterday, hugging my mother and crying. When I lost my father, it was also tough to accept his death, even after attending his funeral.
The other significant difficulty that I experienced was getting pregnant with my daughter. My now ex-husband and I were not yet married. Getting pregnant with my daughter was especially difficult because of the timing, the myriad of illnesses I had to combat, including kidney stones, and the physical distance between my ex and me for most of my pregnancy.
Finally, I went through an emotionally complex divorce from my ex-husband when our daughter was almost five years old. My divorce was challenging as it took me a long minute to realize that my goals did not have to perish simply because the foundation we as a couple were building had been shattered. In addition, it was also exceedingly tricky navigating the world as a single mother in my mid-late 20s.
Nonetheless, these challenges were opportunities for personal and professional growth. As a result of my losing my birth parents, the door for me to become legally adopted by an incredible American family was opened. The pain I felt losing my birth parents fuels and drives me each day. I am committed to my aspirations of empowering youth who have similar experiences or are of comparable backgrounds (experiencing poverty, orphaned etc.).
The challenges I went through during my pregnancy taught me to love more than I have ever loved before. Consequently, the literal meaning of my daughter's name is "Loved Forever."
Finally, I was able to channel the pain of my divorce. I went ahead and obtained a second master, and a Ph.D., making history as the first woman of color ever to defend a Ph.D. at Northwest University. I was the first person in my cohort to complete the Ph.D. and did so in a record time of 3 years, although the program requires a minimum of four years to complete.
I think it is important also to share that I sought professional counseling to address the residual psychological effects of my divorce, which I masked for the duration of my doctoral journey. Seeking professional help was one of my best decisions, and it has been exceedingly beneficial for my emotional and mental health.
What do people usually not know about you?
Dr. Salisha: There are two things: first, on the playful side, people don't usually know that I enjoy long-boarding. I learned to ride at age 19 during my first year of college. Although I am now in my 30s, I am in my 20s at heart. More seriously, people don't always know the adage, "Show me your friends, and I will tell you who you are," heavily guide me.
My birth father told me this all the time as a child. As I entered adulthood, I became very committed to enabling those I chose to surround myself with as friends. One of my philosophies is that I must become a better person than I was yesterday. I hold the same standard and provide support within my capacity for the people within my circle.
What sets you apart from your competitors in the industry and in life?
Dr. Salisha: I am an exceptional writer who is exceedingly sociable/relatable. After years of practice, I have become proficient in combining and utilizing both talents to inspire and empower others around me. In addition, my passion and commitment to supporting individuals who live on the margins of society have set me apart in the leadership and nonprofit industries.
Finally, my childhood trauma has and continues to inform the work I do and the legacy I am leaving behind.
People who have known me for a long time will say that I am the epitome of resilience and hard work; despite my many struggles, I kept going and worked extremely hard to become the woman I am today.
What are your upcoming major events – Unforgettable Moments or products/services that you want to promote/inform?
Dr. Salisha: I am so thrilled to share that I will officially launch the Shara Foundation, a nonprofit organization named in honor of my adopted mother, Sharalee Blaisdell. I intend to launch Phase One this summer, consisting of a Back-To-School Supplies Drive to springboard the educational trajectory of youth in Grenada. Our vision is that Shara Foundation will be a model for positive youth development, strengthening under-resourced communities through investing in youth and their capabilities to thrive.
What are your food preferences and physical attributes?
Dr. Salisha: I LOVE Food. Some of my favorite foods are Caribbean, Thai, and Indian cuisines! I must add that my favorite dessert is brownies with vanilla ice cream – yummy!
Two of my most noticeable physical attributes are my beautiful dimples – especially when I smile or laugh. In addition, I have well-defined calves, which always leads people to ask me if I play soccer – I don't (!
Your love life, relationships and family?
Dr. Salisha: In terms of my love life, I am in the early stages of getting to know a kind-hearted man and his two precious children. My immediate family consists of my beloved and brilliant 10-year-old daughter and me.
What expert advice would you like to give?
Dr. Salisha: One of the most important lessons I have learned and will encourage others to take heed of is: with every obstacle, there is an opportunity. It is imperative to acknowledge that barriers exist, they hurt, and they are hard to cope with at times, but it is equally crucial that we remind ourselves that we are stronger than the problems presented to us.
Therefore, we must do our best in whatever situation we find ourselves in. While you are down in the pits of life – don't give up, celebrate small wins, and never sacrifice or lose sight of the core values that define you! If you do that, no matter how rough the journey may be, you will always emerge to the top with little to no regrets about the path you've taken as you write each chapter of your life.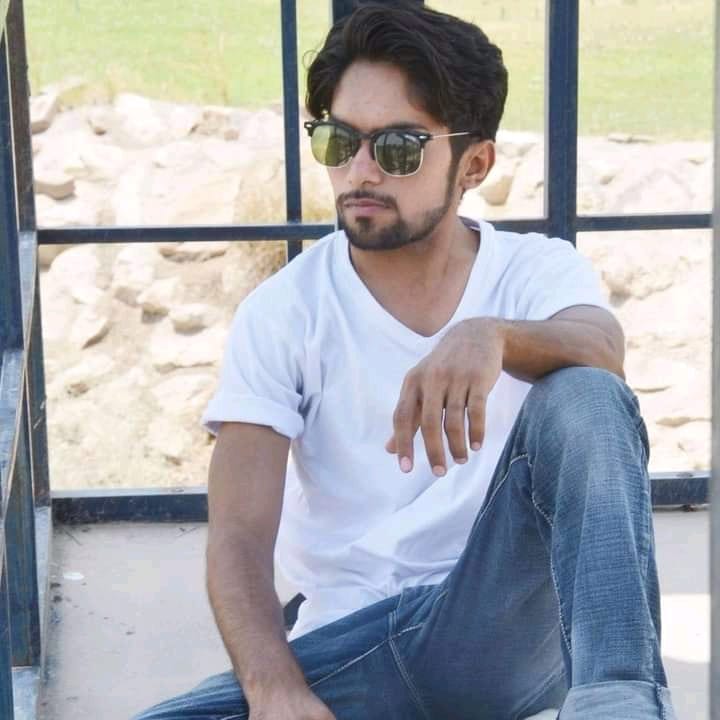 Tariq Riaz is the owner, writer and editor in chief of TheCelebrity.Online – Read more on our About Us page.
Read More From This Author At – Tariq Riaz