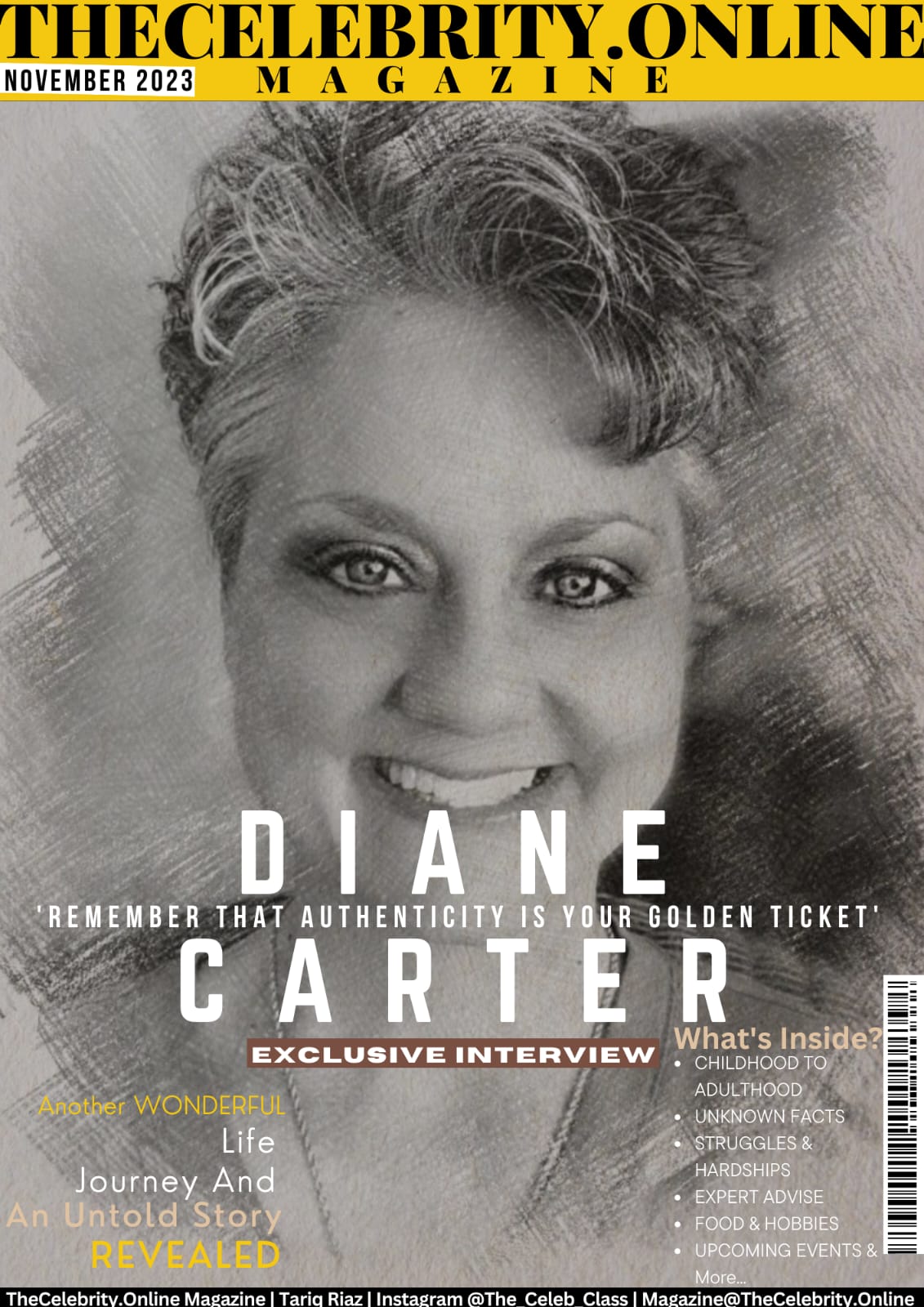 Diane Carter was recently interviewed by TheCelebrity.Online Magazine and below is the Q&A session we had with her.
Diane Carter As Cover Story – November 2023 Edition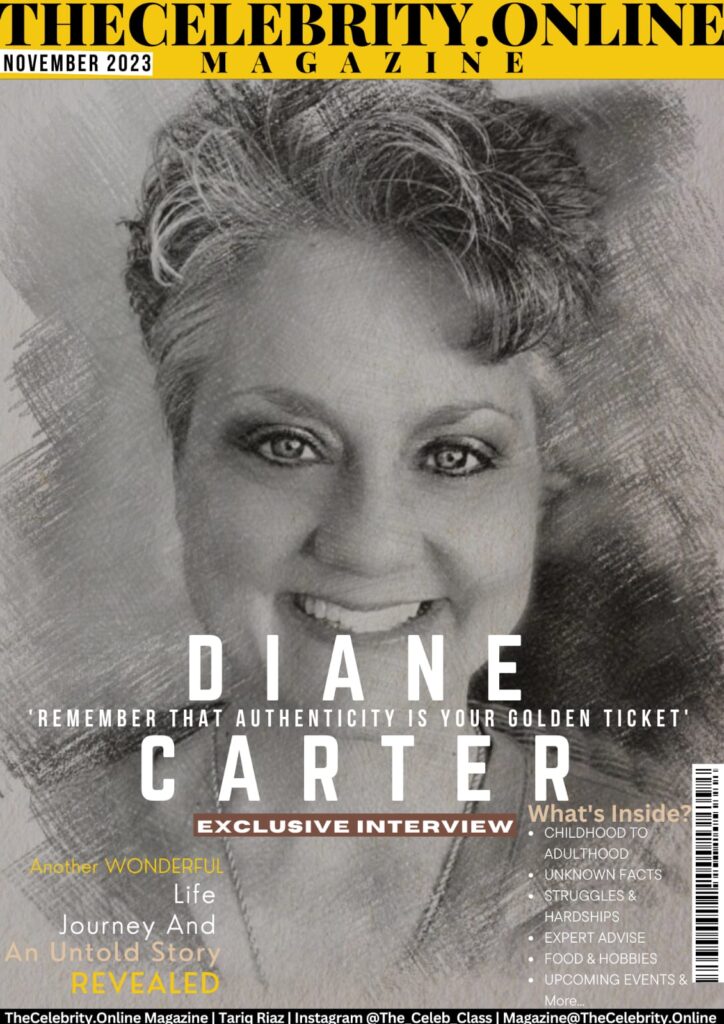 How do you introduce yourself?
Have you ever wondered how profound thoughts are transformed into powerful words that can change the world? That's where my journey as a ghostwriter for changemakers begins.
Hello, I'm Diane Carter – your artisan of words, your behind-the-scenes alchemist who transforms your expertise into impactful words. From helping thought leaders to spinning stories for visionaries, my craft is to narrate the unsung melodies of your mind's symphony.
Childhood to Adulthood?
People often ask me about my transition from childhood to adulthood, a voyage we all navigate differently.
My insatiable hunger for knowledge began at 12, driving me to embark on a path of self-discovery, guided by mentors who introduced me to the profound wisdom of Ziglar, Peale, Carnegie, and others. Today, my journey is illuminated by the teachings of Burchard, Robbins, and Maxwell. As a committed detective of personal growth, I relentlessly pursue self-discovery and expansion.
My First eBook "Creating Change"
I've collaborated with entrepreneurs, small businesses, and global corporations throughout my illustrious career. While honing my instincts and sharpening my skills like a lead investigator on a case, my true passion lies in helping others unlock their full potential. Acting as a guide, I lead them through their unique challenges, helping them find the connections and solutions they seek.
In 2023, fueled by this passion, I self-published my first eBook, "Creating Change." This forensic manual for the mind delves into the intricate workings of our thoughts and self-talk, teaching readers how to transform negative patterns into positive ones.
From learning the ropes to leading the charge in creative services, the good has always been the richness of experiences that now bleed into the narratives I create. And yes, every story has its shadows, but those aren't the focus – the brilliance of overcoming them and staying positive defines my journey.
Struggles and Hardships?
Sure, there have been a few. Gains and losses, like everyone. But it's not the struggles that define us; instead, it's how we bounce from the losses. My professional qualifications, experience, achievements, and skills, are a testament to my resilience in turning challenges into stepping stones, creating a diverse background from which I draw inspiration for the powerful stories I write.
Unknown Facts?
Some things that people might not know about me are my love for cooking, especially grilling even in cold weather, and my passion for mastering the art of homemade pizza. They may not be aware of the quirks that make me unique, such as the little rituals I perform before I write, or how I can find inspiration in the mundane. However, what's important for them to know is that I'm a dedicated storyteller who strives to make their voice and message resonate in evergreen legacy novellas.
Uniqueness
Standing out in a world full of content creators is no easy task. What distinguishes me from others is not only my writing ability, but also my deep listening skills, my understanding, and my precision in crafting content – qualities that are essential in both my professional and personal life. Moreover, I firmly believe in going the extra mile, a value that can only be fully appreciated through the personal experience of working with me.
Upcoming Events?
I have some upcoming major events in my schedule, but I cannot disclose the specifics at the moment. I am currently working on a four-part empowerment series for women. Each part will have a successful co-author and will be released in each quarter of 2024. The series is designed to weave a tapestry of narratives for female entrepreneurs, empowering them to reach goals that reflect their deepest convictions. With my devoted penmanship, we aim to set the stage ablaze with powerful and unforgettable tips and strategies.
Food & Fitness?
Now, while the details of food preferences, physical attributes, love life, relationships, and family are kept close to the vest – as they rightly should be – I'll say that family and friends are my number one priority in life – now, let's talk about what I'm eager to share.
Expert Advice
If you want to make an impact, remember that authenticity is your golden ticket. Whether you're a speaker, leader, or dreamer, being true to your story is where your power lies. My advice is to own your narrative – let's collaborate to ensure that your words aren't just spoken but are felt and remembered.
Click here https://sleekbio.com/dianecarter and you can find all of my social media and website links, my digital footprint, much like my work, is about connectivity and lasting impact. Reach out, and let's start our journey of collaboration.
Frequently Asked Questions:
Can you ghostwrite for any industry?
Absolutely! I bring chameleon-like adaptability to suit your industry's tone, style, and audience.
How do you ensure the writing reflects my voice?
Through comprehensive discussions and an immersive understanding of your essence, I tailor each sentence to resonate with your unique timbre.
What's your turnaround time for projects?
It varies, but I'm committed to working efficiently to meet your timelines without compromising quality.
Are you ready to tell your story?
Reach out to me, and let's craft a message that doesn't just speak to the mind but sings to the soul. Your narrative awaits – don't leave it untold. Contact me, and let's create something unforgettable: 𝗘𝗺𝗮𝗶𝗹 𝗮𝘁 𝗱𝗰.𝗹𝗶𝗻𝗸𝗲𝗱@𝘀𝗮𝗺101.𝗰𝗼𝗺 or DM me on LinkedIn to begin our creative journey.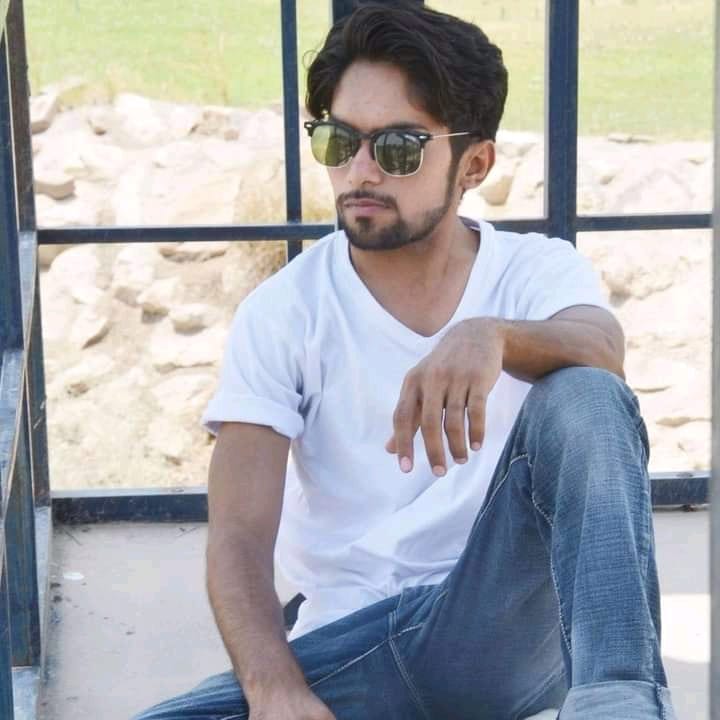 Tariq Riaz is the owner, writer and editor in chief of TheCelebrity.Online – Read more on our About Us page.
Read More From This Author At – Tariq Riaz