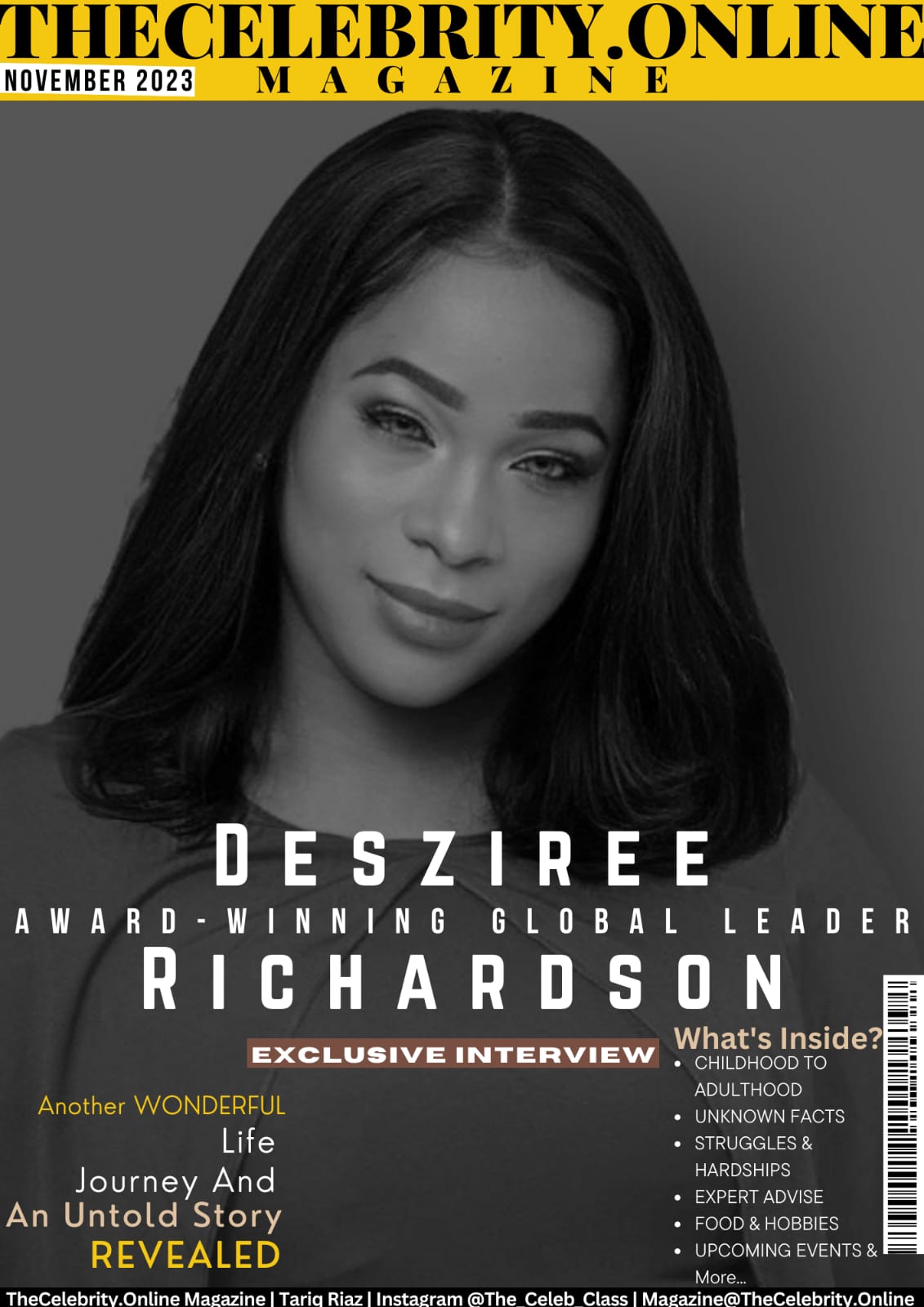 Desziree Richardson was recently interviewed by TheCelebrity.Online Magazine and below is the Q&A session we had with her.
Desziree Richardson As Cover Story Interview – November 2023 Edition
Please share your background. 
I am Dr Desziree Richardson. I formulated brands and platforms to empower, educate, enlighten and elevate humanity. I use my voice and platforms to create a positive change of joy and happiness in the world.
As a solid businesswoman and global leader whom a single mother raised, I had visions that manifested right before my eyes despite the many challenges I endured as a child; I feel a genuine urge and devotion to the well-being and welfare of my fellow human beings and enjoy being a service to others. My soul's purpose in sharing my story and wisdom is to help positively change many people's lives worldwide. 
My mission positively influences others'. I envision a world of hope far from the perils of pride, fear and ego to replace the elements with compassion, kindness, peace, and tolerance. I  believe our world could become more beautiful if everyone thought positively and shared positive energies wherever they went. 
My life experiences push me to work even more arduously, knowing that there is a chance for us to succeed in a world filled with endless possibilities only if we give hope a chance and understand that we have the power to choose what to allow or manifest in our lives.  
I believe there is enough abundance for everyone. It's about working towards that common goal and achieving it with the right mindset and good intentions with positive decision-making.
Childhood to Adulthood – How was your transition from childhood to adulthood, and what are the bad and good things you remember? 
It is a journey to date that has been punctuated by so many aha moments despite moments of self-doubts, obstacles, dark clouds, and poor judgment. What I want to share with you today is the tip of an iceberg grounded in an ocean of lived experiences. The streams of memory going through my head provide me with a splendid vista to share with the manifestation of these instances.
I believe I was born and raised in a world where insufficient knowledge of life tools and skills was not shared enough on empowerment in self-love, self-esteem, self-doubt, self-reliance, and self-confidence. Even though sharing love and kindness was the only value I remembered, I was often fascinated by these life tools without moderation.
As I journeyed through life, the good I remembered was finding my purpose, holding on to the vision before my eyes and watching it manifest.
I had to start believing in my creativity while practising self-love. All I ever knew was to love others without taking the time to connect with loving me, my abilities, skills and talents.
Furthermore, I had to stand up and look in the mirror and ask myself, who are you, and what is your life purpose? I remember listening to the wrong crowd and engaging in inappropriate relationships, which taught me the lessons needed to get where I am. Hence, I was grateful for the opportunity to choose and connect with an inner being that brings out the beauty of my hidden capabilities. I found myself when I let go of places, people, situations and things that were not in my alignment and that were draining to life expectations.
Struggle – What hardships have you gone through in life?
As I explored through life, I had to learn through it all. The beautiful images I held in my mind of life creations behold the greatness of aligning with my destiny. Still, in the past, the negative people around me who showed up in my life challenged my creative spirit, igniting me with the wisdom I'm now sharing with the world.
My experiences of breaking through what was considered the night of the soul, where there were things, places and people I allowed to steal my joy, have had some consequences on my ability to reach the level I need for my creative conscience to manifest. However, it was the lessons I had to go through to fully excite my creativity at its highest after experiencing a complete manipulation where I almost lost my creative spirit, self-worth and identity.
During this time, I never knew I had the power to authorise what is best for my inner peace by finding myself and creating my happiness, knowing that I can choose my enjoyment; I owe it to myself instead of depending on others.
What do people usually not know about you? 
Some people know that I had a great voice in the media, listening to me for years over broadcast as a former media and radio personality announcer/reporter and broadcaster. What They don't know is that I have a healing gift. My voice is a magnetic energy that pours and vibrates healing energy to everyone who comes across it. It's calm, warm and pure.
However, I believe they never knew that there was that extra uniqueness but never realised its healing effect on people.
What sets you apart from your competitors in the industry and life?
We are all gifts and possess unique abilities and qualities that we can propose to the world; what sets us apart is our ability to triumph. My uniqueness is my voice, the energetic and magnetic feel and the light engraved through my heart chakra that eliminates so beautifully when pouring out in the world and sharing it with others.
What are your upcoming major events – Unforgettable Moments or products/services that you want to promote/inform? 
FACE of WOHA, our mission is to give a voice to those who have the potential to become leaders and icons. We provide more significant causes and opportunities for diverse women to help heal the world through powerful messages of wisdom and grace. The FACE of WOHA is determined to bring positive changes to the world. Helping women find their voices, celebrating their achievements and spreading awareness around diversity are some of the purposes we have taken up.
We are preparing for a future when every little girl will have the chance to chase their dreams and realise them. Voices of women won't be lost in their shadow; their achievements and capabilities will be celebrated. Stories of their journey, struggle and success will inspire others to do better and achieve whatever they want. The face of WOHA aims to become the support system women need for a better and more empowered future.
The FACE of WOHA loves giving back to those in need. It is a joy to know that we are making a difference and positively impacting the therapeutic environment. The face of Woha supports the Women of Heart Foundation.
GENTLEMEN OF HEART AWARDS 
Gentlemen of Heart Awards – GOHA brand is a yearly celebration to say thank you to the world's greatest philanthropists, leaders, business people and humanitarians who will be honoured at a grand celebration in London.
These men, known for wearing their hearts on their sleeves, have displayed exceptional leadership qualities in the humanitarian sector, serving as the pillars of humanity.
A Goha Man is a man who enjoys sharing and showing the positive side of the world that we don't often see the goodness of men's heart who has made and are making meaningful contributions, aiming to inspire a more inclusive and harmonious world where everyone is esteemed, honoured and acknowledged.
GOHA men are men who serve the same objective to create favourable outcomes.
A GOHA man is a man of humbleness who knows his heart and continuously leads in excellent vibrancy because his heart is always cheerful, his conscience is clear, and his motives are genuine; he laughs, sees goodness in others, and works from his endurance rather than his ego because he knows that giving and loving are the rules of life that keep the heart and mind young.
GOHA Men have these qualities which radiate from within, which is evident on the outside. They know humility promotes longevity and eliminates toxicity, allowing the body and mind to gradually and gracefully thrive.
WOMEN OF HEART AWARDS 
Women of Heart Awards WOHA is a yearly celebration of 88 global women who are beating the hearts of humanity.
WOHA honours exceptional women who have demonstrated an unwavering commitment to the betterment of our future generations.
Women of Heart Awards celebrates women who lead and guide with love and humility.
WOHA is a woman who is unafraid to share love, spread positivity and show kindness by shining her light with and on others.
Most importantly, she is a woman with a diamond heart, crystal-clear-clean, clever, charismatic, courageous, calm, cool and confident. She beams from within and is rooted in humbleness. She is a beautiful light of humanity and radiates love in all her doings to help the world thrive.
What expert advice would you like to give?
Happiness is crucial, and you are responsible, so please create your happiness and be the master of your happiness.
You have the power to be in control of the essence of happiness. Please share it with the rest of the world.
To find happiness is to find balance, work towards that common goal and achieve it with satisfaction and purpose. Becoming happy with your choices and decisions will help you to realise that the only way to have happiness is to have peace within and to know your actual value by making the right decisions as to why you are doing what you do, which will bring you the harmony much needed in your business or organisation.
You deserve a chance to be happy; you are your happiness. Please ensure your happiness is embedded so that peace, love and kindness can be radiated and felt through your existence and experience. 
My message is to search within and choose happiness.
Please share your social media handles and website links.
Dr Desziree Richardson's Linkedin
Desziree Richardson Facebook
Desziree Instagram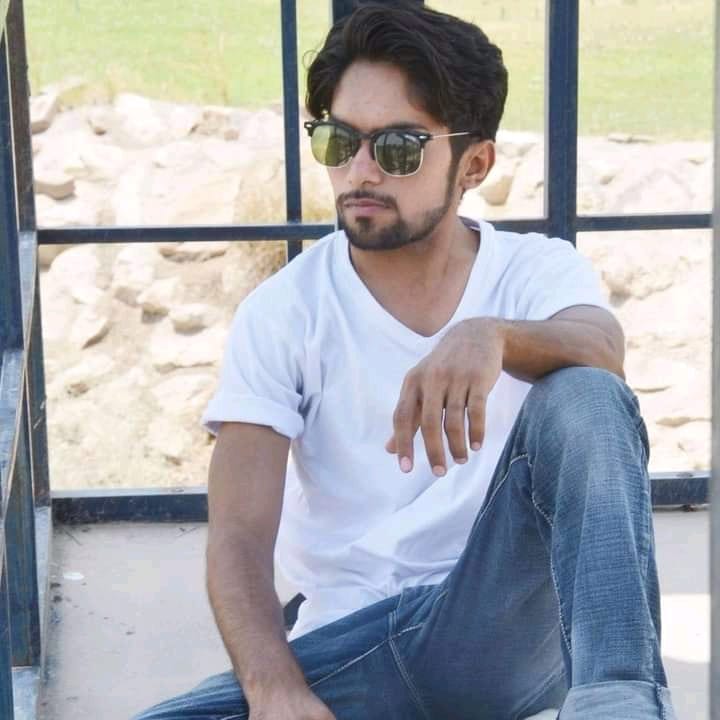 Tariq Riaz is the owner, writer and editor in chief of TheCelebrity.Online – Read more on our About Us page.
Read More From This Author At – Tariq Riaz