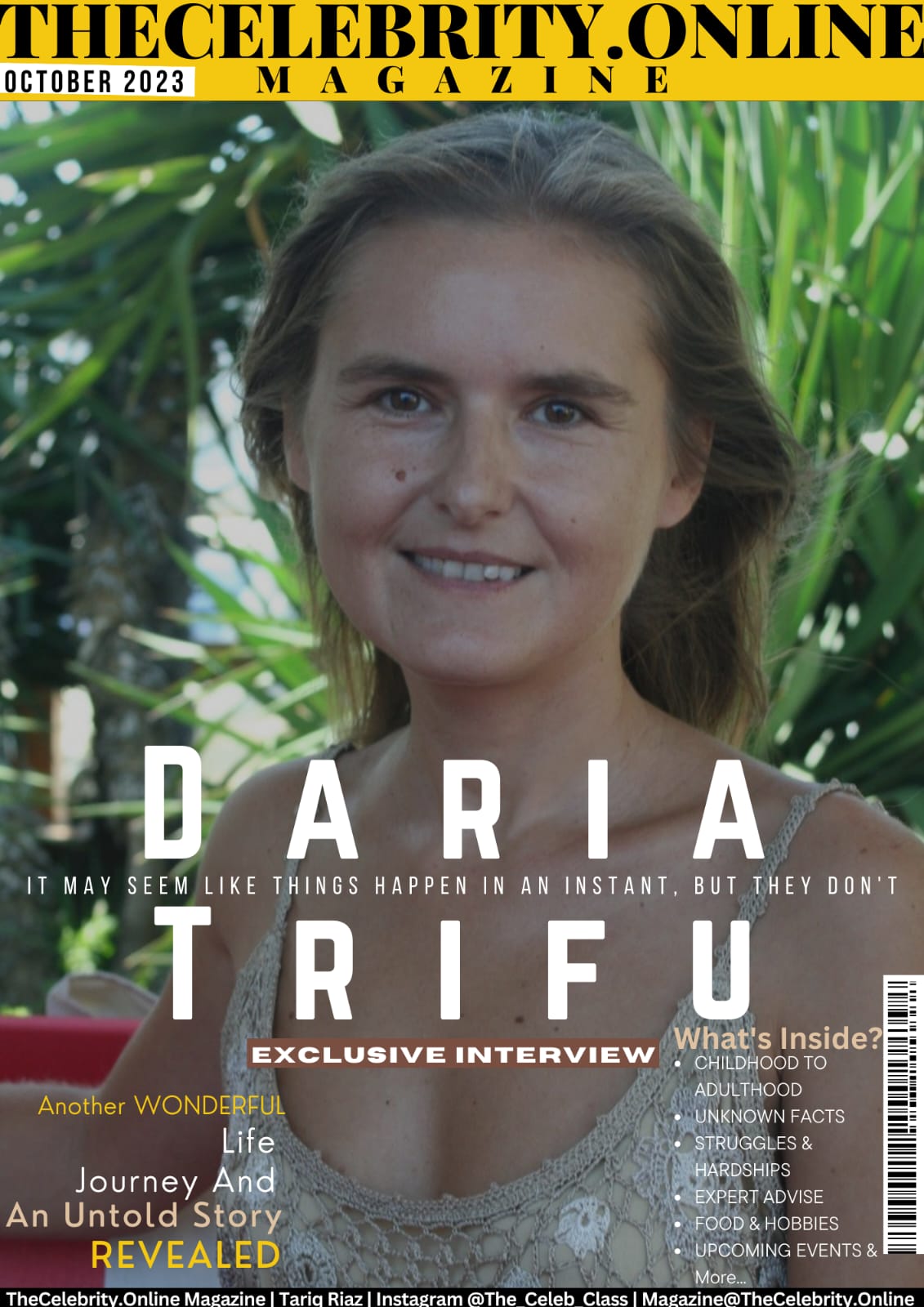 Daria Trifu was recently interviewed by TheCelebrity.Online Magazine and below is the Q&A session we had with her.
Daria Trifu As Cover Story – October 2023 Edition
How do you introduce yourself?
First and foremost, I am a producer of motion pictures and documentaries that are non-violent and address topical issues of our time.
I am also an entrepreneur, co-founder and president of Canadian film production and distribution company Global Film Studio. I've spent all my adult life in the film industry and, as such, I wear many hats: co-founder and director of the Global Nonviolent Film Festival, co-founder of GlobalCinema.online, manager of the Global Film Actors Agency, and founder and editor of DARIA! Magazine.
I will be making my acting debut in the upcoming mega-film project, "The Trilogy", written and directed by Maestro Bruno Pischiutta, member of the European Film Academy. "The Trilogy" consists of three motion pictures and three documentaries; apart from producing the six films, I will be directing the documentaries.
Childhood to Adulthood – How was your transition from childhood to adulthood and what are the bad and good things you remember?
I grew up in an artistic environment. From the time I was born, my mother was the director of a dance club and later of a theater club in my town. The performers were university students and all rehearsals were held in the evening. My mother took me with her to work every day. In fact, she was called "mom" by everyone because I was calling her that way and it became her name.
I grew up on the stage, surrounded by performers, costumes, makeup and creative minds. I traveled to various cities where the students were participating in national dance and theater festivals. My friends, the people I spent most of my youth with, were actually adults in their 20s and 30s. This gave me a front-row seat to adulthood and I learned very early what I wanted to do in my life: I had my mind set on a career in Hollywood!
I saw Fellini's "La Strada" when I was about nine years old, and that cemented my desire to create something similar, just as powerful, just as impactful…. I knew then that I would go into filmmaking, I didn't know how, where or when, but I knew it!
When I was 11 years old, my parents enrolled me in the High School of Fine Arts where I stayed until I graduated and, soon after, I emigrated to Canada. Those formative years of study and artistic creation proved incredibly useful in my film career.
Struggle – What hardships have you gone through in life?
I can say that emigrating from Romania to Canada was a difficult endeavor.
In my time, when borders were well defined and you still needed a visa to travel, even visiting another country was difficult. Moving then to another continent, was incredibly difficult.
The fact that I already knew what I wanted to do helped, because I went straight for it and didn't wait a moment.
In Canada after just a few months, I had already enrolled in the International Film Workshops taught by Bruno Pischiutta, and soon after completing the intensive courses, I started working for his company, Toronto Pictures.
I traveled the world to attend film festivals. I've been to Cannes, the American Film Market, Montreal, Monte Carlo and Las Vegas. I traveled for business to cities like London, Los Angeles and New York. By 2004 I was working as a producer on Pischiutta's major feature film "Punctured Hope – A Story About Trokosi and the Young Girls' Slavery in Today's West Africa", and I had traveled to Ghana several times where, in 2005, we shot the movie.
What do people usually not know about you?
For the past 12 years, I've played the key role in hosting and organizing the Global Nonviolent Film Festival, the most important and renown nonviolent film festival in the world. We have a great following around the world and within the international film industry.
In 2021, I also founded – together with Bruno – the streaming channel for nonviolent films, GlobalCinema.online, that is available worldwide.
Bruno and I have founded the Global Nonviolent Film Festival in 2012 because we wanted to present films that did not contain gratuitous violence and we wanted to create a space for movies that inspire and uplift audiences. In other words, we also wanted to establish that it's not necessary for a film to contain gratuitous violence to achieve success. In the first two years we screened and awarded films with Woody Allen, Robert Redford, Nicole Kidman and many other stars. Over time, however, we began to receive an abundance of films from independent filmmakers from all corners of the world who were eager to enter the space we offered for nonviolent cinema and who, to this day, show us extreme talent and creativity!
But the word "nonviolent" should not mislead or give the wrong idea that our films are somehow boring or they lack entertainment value! On the contrary, the films are extremely entertaining and feature the highest standards of production. Incidentally, we also have comedies and thrillers! The difference is that the films we present stand the test of time because of their substance and themes, and have the power to expand viewers' horizons and expose them to new perspectives and ideas. Our films are selected from different countries and, therefore, show us different cultures and customs, which certainly broaden the viewers' understanding of the world. Our audiences are engaged by the characters portrayed, the topics covered and the themes introduced at a deeper and more sophisticated level.
Today, after 12 successful annual editions, I can proudly say that the Global Nonviolent Film Festival is the most important and renowned nonviolent film festival in the world!
The 2023 edition of Global Nonviolent Film Festival has just concluded and it was the most successful to date. This year the Festival was broadcast on GlobalCinema.online exclusively; it presented 36 films and documentaries from 15 countries.
Registration is open from November to August each year on FilmFreeway.
Creating GlobalCinema.online came naturally because we always knew that the main reason films go to festivals is to have a chance to be viewed and picked-up by distributors.
In 2021, during COVID, we had time to invest in the foundation of the channel. Today we already have more than 220 films streaming to a worldwide audience, and we are adding new titles every week. Now we are able to offer distribution contracts – on very favorable terms – to all the films selected at our Festival as soon as the event ends. It is a win-win situation for everyone: our company, the filmmakers and the audience.
What sets you apart from your competitors in the industry and in life?
Our niche and our dedication to the production and distribution of films and documentaries that do not contain gratuitous violence and that, in many cases, deal with stories that address social issues of our time.
What are your upcoming major events?
As I mentioned before, I will make both my directorial and acting debuts in the upcoming mega-film project, "The Trilogy," that consists of three motion pictures and three documentaries. While I will produce the six films with Bruno Pischiutta, I will direct the three documentaries, while Bruno directs the motion pictures which he wrote and ideated.
"The Trilogy" is inspired by the work of an extremely controversial genius writer from another time. When his identity is revealed, the writer's name alone will ensure global public interest in "The Trilogy" films! For marketing reasons, the writer's name will not be revealed until the beginning of the promotion campaign preceding the release of the movies.
The films will be very important and positive for the LGBT community and, in addition to freedom of speech, they will also touch on the very troubling realities of the sexualization of children, Satanism and pedophilia.
The main female character in the films embraces the devil's ethic, which is a non-ethic, and the opposing systems create the conflict present in the movies that, come to think of it, also creates the reality in our lives today. The model to which the protagonist is inspired has no morality, no sense of justice and is totally ungrateful.
"The Trilogy" films will be extremely commercial and generate fiery debate around the world.
What are your food preferences and physical attributes?
I've always been a sporty girl. As a child and adolescent, I was a competitive skier and tennis player and won numerous competitions. Nowadays, I walk a lot and swim. I eat one meal a day from more than 20 years and my diet has always been Mediterranean. I like to cook my meals from scratch and often play with recipes and adjust them to my liking.
What expert advice would you like to give?
To anyone who is considering to build a career in film, I tell them that they will need a nervous system of steel and a lot of patience. Patience, in our industry, is the keyword. It may seem like things happen in an instant, but they don't.
What I often hear Bruno tell young filmmakers is to try to get noticed in their own country before thinking of Hollywood or London. We have to remember that Hollywood was built by buying the best talent in the world and bringing them there, not by talent going there and knocking on doors.
Your social media handles and website links?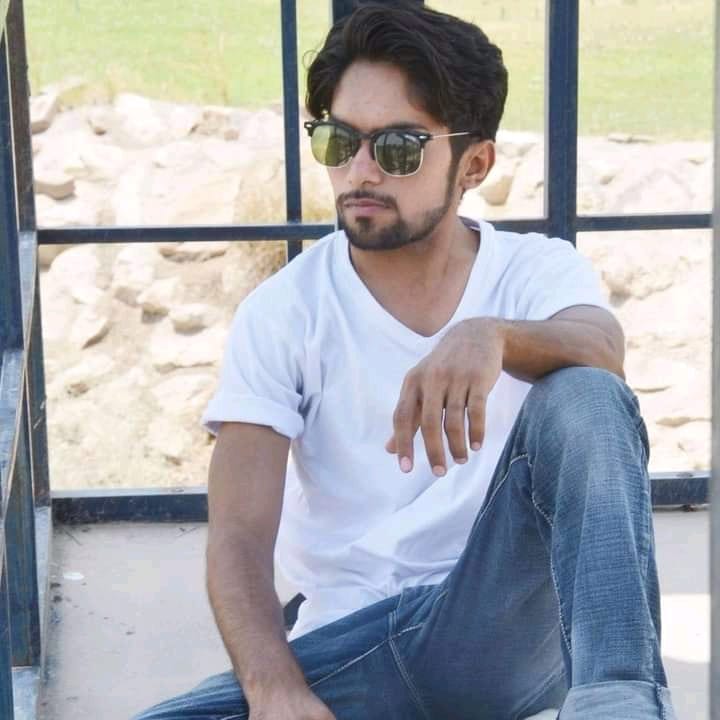 Tariq Riaz is the owner, writer and editor in chief of TheCelebrity.Online – Read more on our About Us page.
Read More From This Author At – Tariq Riaz