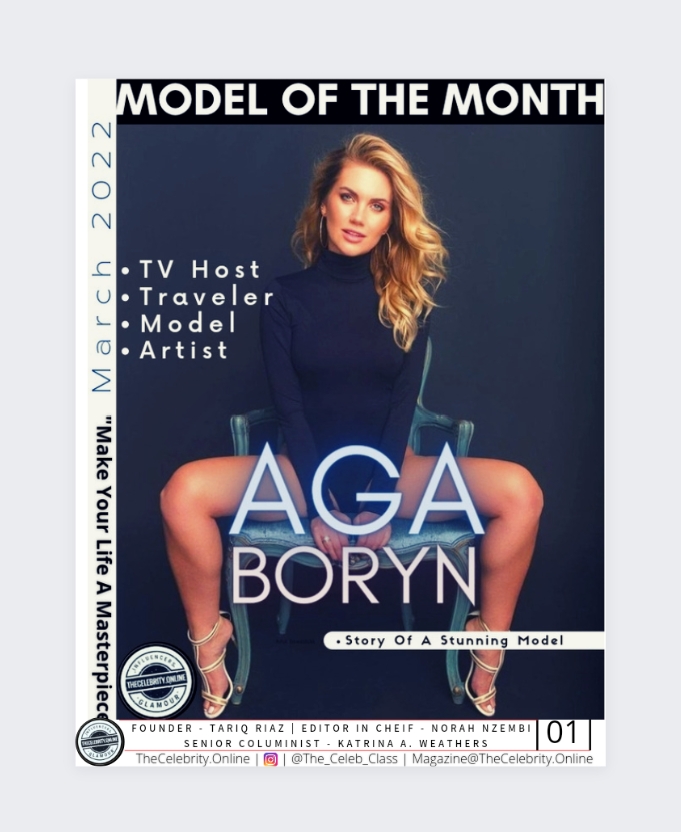 Aga Boryn has been selected as the Model of the Month for the March edition of our magazine and today we bring you Aga Boryn's exclusive interview.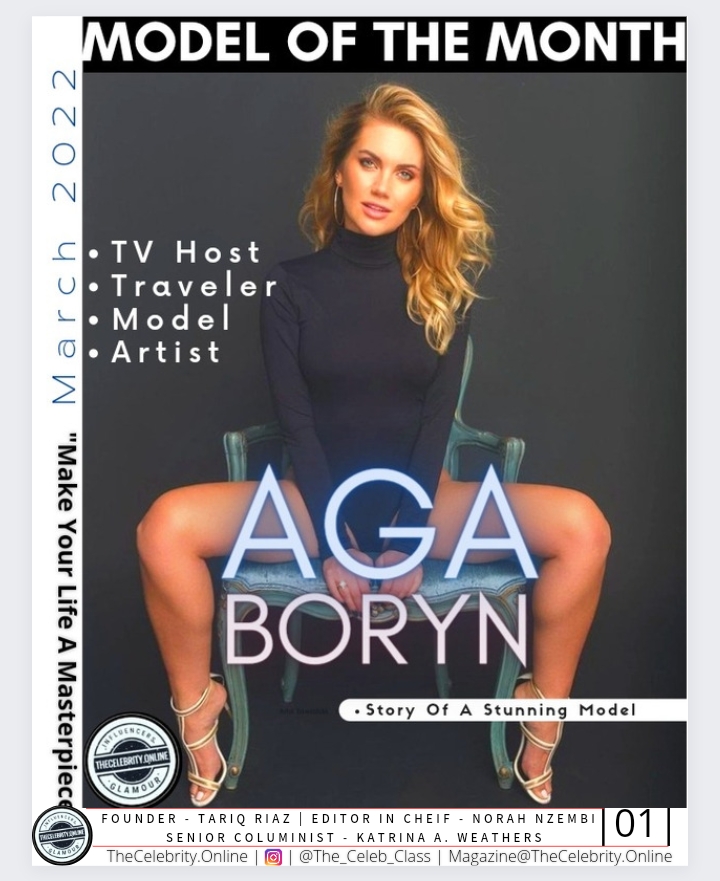 Who Is Aga Boryn?
Aga Boryn always wanted to be a journalist; so, she finished her studies and got master degree in this profession and she used to work for the TV in Poland.
Right now she work as a model and an influencer and she love it but she want to go back at the TV and have her own show.
Aga Boryn – "I Was A Shy Child But Traveling And Modeling Make Me Confident"
I used to be a shy child but it has changed! My childhood was nice I used to attend dance classes, than I was a cheerleader and I danced for almost 12 years in my life. I lived in a small city. I started to participate in beauty pageants and because of that I became more confident.
I always wanted to live abroad. I went to study to other city in Poland but then I took part in an exchange student program and I moved abroad. It was amazing! I started my life abroad. Then I started to travel too, and there is nothing in this world that I love more than traveling. It's my passion.
People Sometimes Take Advantage Of Your Honesty
The hardest things were with people I trusted too much as I am really honest and sensitive person and some of the people I met in my life took advantage of it.
Aga Boryn Secrets – "My Secrets Are Sexy"
Secrets are meant to keep them to yourselves so are mine. But, I can tell that mine are the Sexy ones.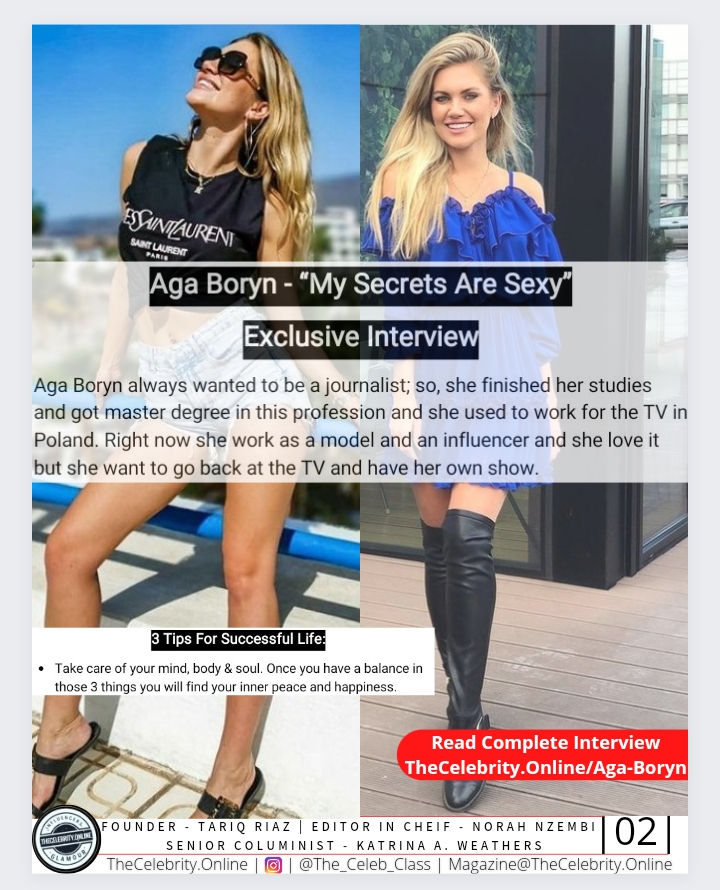 I am always very ambitious and I never give up! Once I say I will do something I always do! I always see positive side in every little thing. Sky is the limit! If I want something – I get it. My family always supported me and supports me with things that I love and wanna do.
I am very close with my partners and grandparents. Family first – they always will be there with u! I appreciate the warm and support they give me. I can always count on them.
Aga Boryn Advice – "Follow Your Dreams And Heart"
Don't listen to others and follow your heart. Your intuition will never disappoint you. No one but you will live your life so do what you want and feel free.
Be Real In This FAKE World
There are few things that I am proud of. I am happy and proud that I got where I am right now and I will go further. Always chasing my dreams is my favorite hobby and I am proud that I achieved everything as I wanted and most proud I am that I have values; I am a decent and sensitive person in such a fake world.
What Are Aga Boryn's Future Plans?
"Future Plans Are Kept Secret." I don't like to tell about things that are going to happen because I believe most in the energy in life and I think you should share with people something you have DONE not that you plan to.
Aga Boryn's 3 Tips For Successful Life
Take care of your mind, body & soul. Once you have a balance in those 3 things you will find your inner peace and happiness.
Always do things from the bottom of your heart – it will lead properly.
Stay focused! And develop your skills.
My Favorites Are Eyes And Smile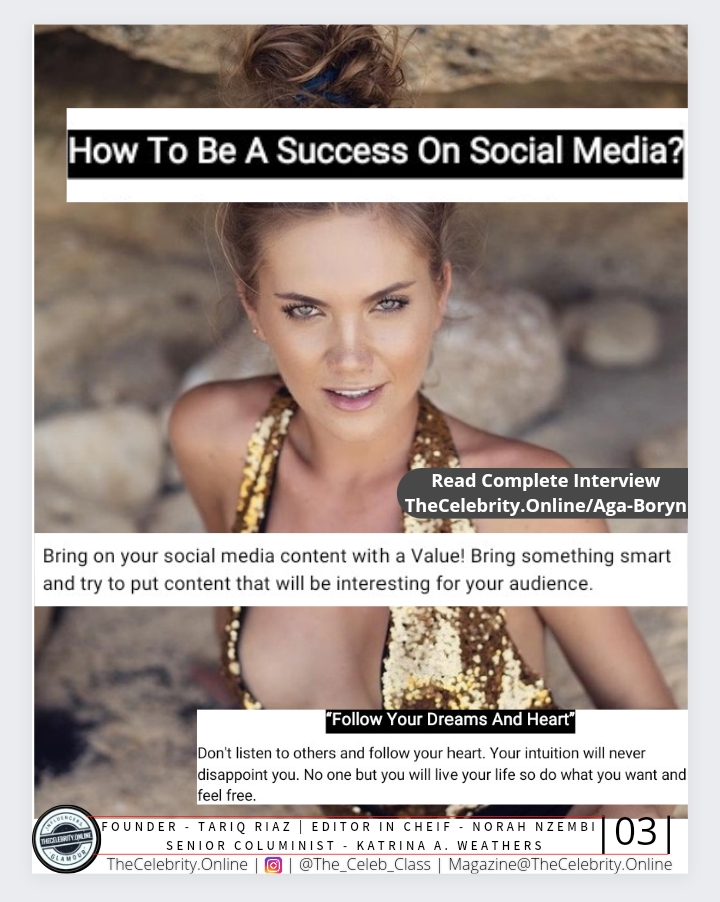 I hate when people complain all the time and are unhappy. Everything starts in our mind and every journey has a First Step. I Love Honest, Loyal And Ambitious People.
Aga Boryn's Homeland – Poland And The Ukarine-Russia War – Bad And Sad
The situation in the world has gotten tough now but I think that social media and events will go smooth, I keep my fingers crossed. In Poland the situation right now is very bad and sad.
But I am not in Poland right now and don't want to live there but I am so sorry for all the people that are suffering.
How To Be A Success On Social Media?
Bring on your social media content with a Value! Bring something smart and try to put content that will be interesting for your audience.
Aga Boryn Instagram Handle
The official Instagram account of Aga Boryn is @agaboryn where she share her latest photos and updates. Moreover, she is having a reasonable followers count of 107K on her instagram account.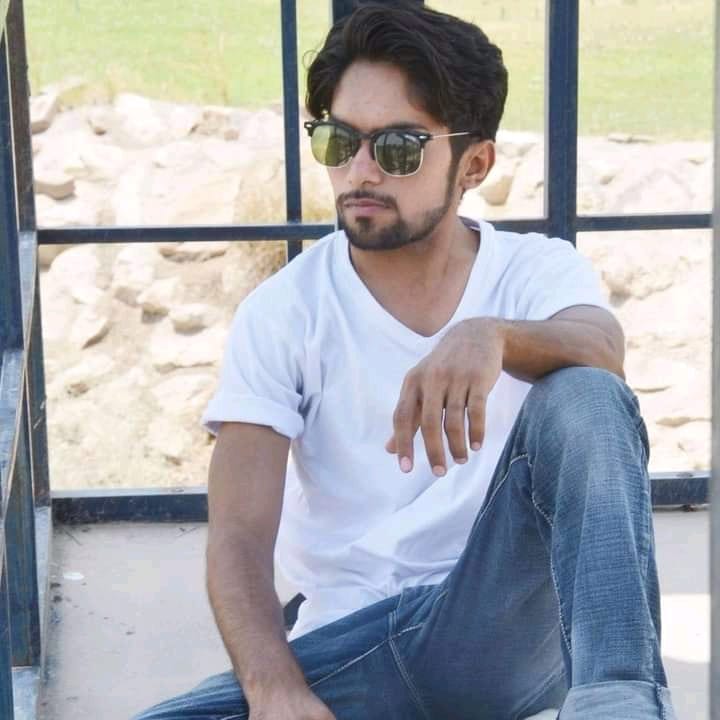 Tariq Riaz is the owner, writer and editor in chief of TheCelebrity.Online – Read more on our About Us page.
Read More From This Author At – Tariq Riaz